Announcing the 2019 winner of the Health Care Culinary Contest
Published: 08/04/2020 - 15:10
Feature Image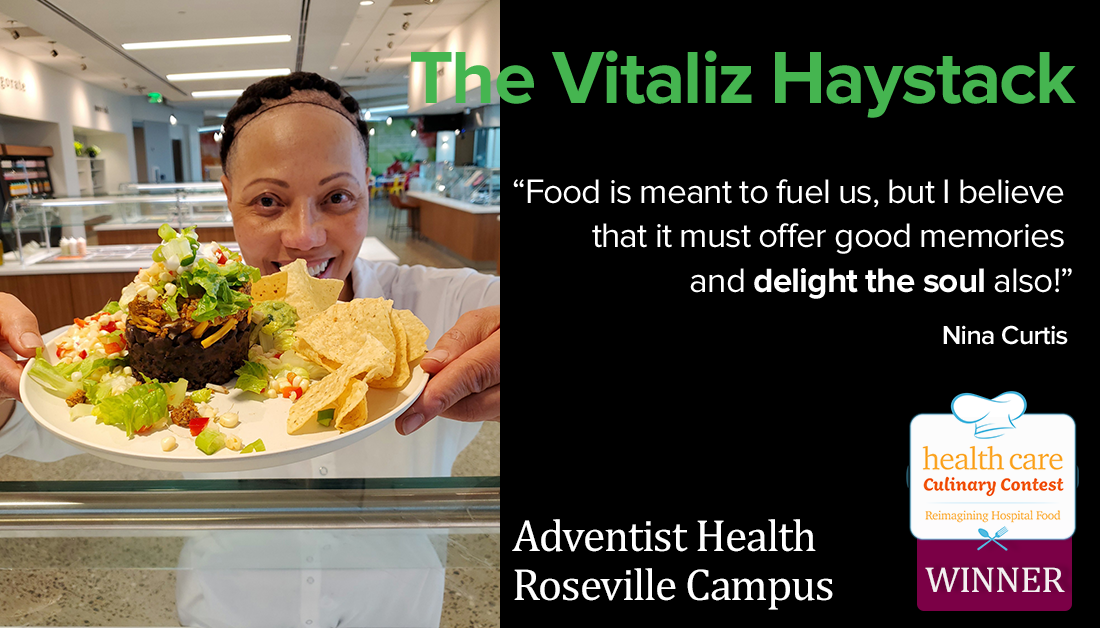 Body
The 2019 Health Care Culinary Contest challenged hospital chefs to create and serve a tantalizing new meal that celebrated the power of plants. Hospital chefs from across the country answered the call.
Health Care Without Harm and Practice Greenhealth teamed up with Menus of Change, an initiative of The Culinary Institute of America and Harvard T.H. Chan School of Public Health to host the contest.
Health Care Without Harm planned to announce the results and celebrate the winner of the in May at CleanMed 2020. Due to COVID-19, we made the decision to cancel CleanMed and to postpone the contest announcement.
We are excited today to announce the winner and ask you to join us today in celebrating the winner, finalists, and all the participants.
The grand prize winner of the 2019 Health Care Culinary Contest is: Adventist Health's Vitaliz haystack by Chef Nina Curtis.
Read an interview with Chef Curtis on plant-forward menus, COVID-19 in food service, the Health Care Culinary Contest, and giving back.
And a round of applause for our finalists: Click on the names of the finalists to read their profiles and download their recipes.
In light of the cancellation of CleanMed 2020, where we planned to honor Curtis and serve her meal, Health Care Without Harm wanted a unique way to honor her accomplishment. With Curtis' support, we made a donation to Placer Food Bank in her name. Placer Food Bank, a Feeding America member organization, works with 70 hunger relief organizations to serve communities across three counties. This year to date, Placer Food Bank has more than distributed more than 6.7 million pounds of food. Due to COVID-19, the food bank expects up to a 50% increase in demand.
The Menus of Change Leadership Summit will feature Curtis in their virtual session "Advancing Healthy, Sustainable, Plant-Forward Menus in Healthcare Foodservice," Aug. 19 at 10:45 a.m. PT.
Congratulations to our winner, finalists, and everyone who submitted recipes. These dedicated professionals deserve recognition for their accomplishments in the contest and their work on a day to day basis. They strive to change the way people think about hospital food and to serve delicious meals that are healthy for people and the planet.
Ready, set, cook! The next Health Care Culinary Contest is coming soon
Health care culinary professionals across the country are taking their menus to new levels in creativity and flavor, all powered by plants. Hit the (cook)books for inspiration – the next Health Care Culinary Contest opens in October. Make sure you're subscribed to Health Care Without Harm's healthy food in health care newsletter to be the first to know when the contest opens.
Join Practice Greenhealth
Practice Greenhealth is the health care sector's go-to source for information, tools, data, resources, and expert technical support on sustainability initiatives that help hospitals and health systems meet their health, financial, and community goals.