25 hospitals setting the standard for sustainability in health care
Published: 05/19/2020 - 10:01
Feature Image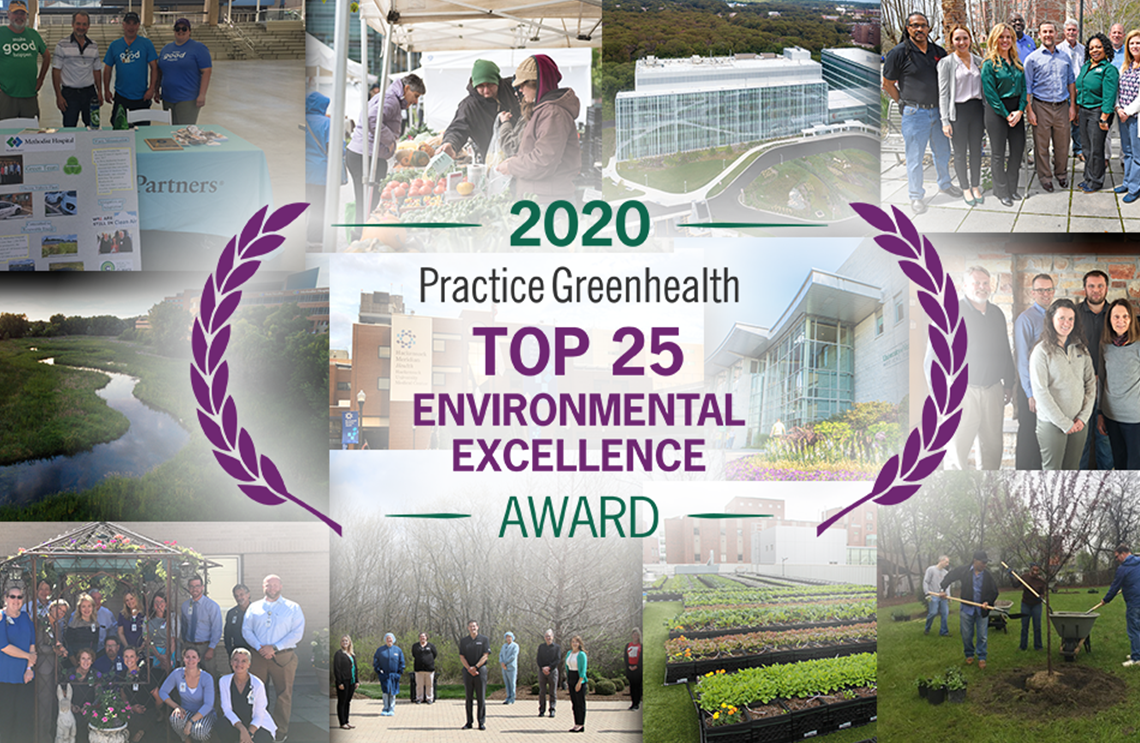 Body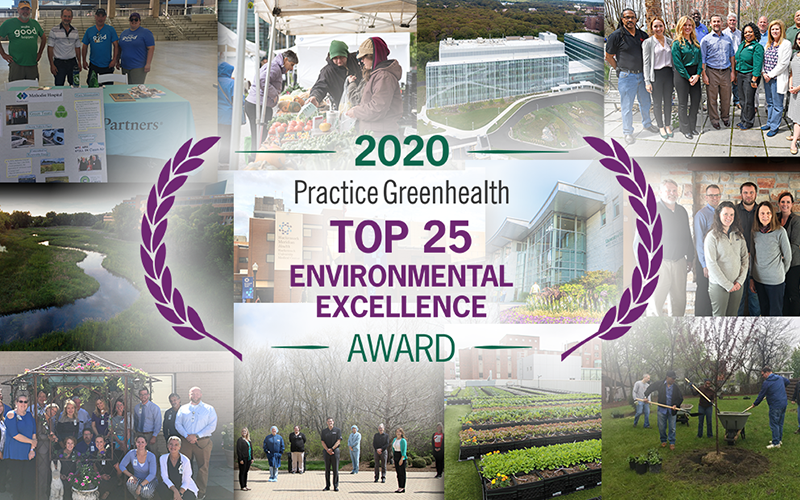 Practice Greenhealth announced the 2020 recipients of the Top 25 Environmental Excellence Awards, the most prestigious environmental achievement for health care.
Including the Top 25, Practice Greenhealth recognized 421 health care organizations across 10 areas of sustainability through its annual Environmental Excellence Awards. This includes the Circles of Excellence honors to the top 10 hospitals nationwide in each sustainability impact area, Greening the OR Leadership and Recognition Awards, Greenhealth Emerald Awards, Partner for Change and Partner Recognition Awards, Making Medicine Mercury-Free recognition, and System for Change Awards.
While the Top 25 winners range in size from large, urban academic medical centers to rural critical access hospitals, they are all leading the country in addressing the links between the environment and human health. From serving less meat to reducing toxic chemicals to installing life-saving renewable energy sources, these facilities demonstrate the kind of leadership, innovation, and performance that can drive the entire health sector to a healthier future for all. Here's a snapshot of just one way each of these Top 25 winners are shaping that future.
"In a shifting health care landscape, a focus on sustainability can help build resilience while better protecting the health of patients and the community." 
- Gary Cohen, Practice Greenhealth founder
Abraham Lincoln Memorial Hospital
Lincoln, Ill.
Anesthetic gases can make up over 5% of a hospital's carbon footprint, with many of them considered potent greenhouse gases known to cause health detriments. 
With an 80% reduction in anesthetic gas purchased in just one year, Abraham Lincoln Memorial Hospital exemplifies their commitment to the health and safety of their staff and patients, the community, and the planet.
Boston Medical Center 
Boston, Mass.
Energy resilience saves lives in good times and in bad.
Boston Medical Center's co-generation power plant provides 43% of the hospital's electric needs, saves $1.5 million per year, and can provide heat and electricity during a disaster. The hospital is well on its way to achieving the bold goal of becoming carbon neutral by the end of 2020.
Cleveland Clinic
Cleveland, Ohio
Picked at peak ripeness with shorter transport, local food tastes better and packs more nutritional punch, all while keeping dollars in the local economy. 
Cleveland Clinic sources 30% of their food locally and sustainably, helping to shape a thriving food system with long-term benefits to the communities they serve. By purchasing sustainably, Cleveland Clinic supports healthier people as well as a healthier planet.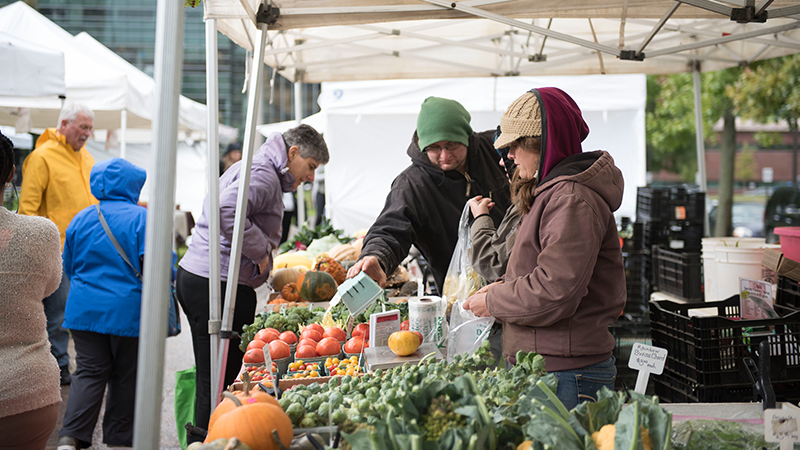 Hackensack Meridian Health - Hackensack University Medical Center
Hackensack, N.J.
Sustainable food purchasing helps protect patients from antibiotic resistance. Hackensack University Medical Center's use of safer chemicals protects patients and staff from toxins. By placing patients and the planet at the center of everything they do, this medical center has earned a Top 25 title for the 7th consecutive year.
Their environmental commitment statement says it all: "While we push beyond traditional thinking in order to provide patients with amazing possibilities, we are also doing our part to preserve the planet for future generations."
Hackensack Meridian Health - Jersey Shore University Medical Center
Neptune City, N.J.
Hackensack Meridian-Jersey Shore University Medical Center leads the way in serving less meat which helps prevent many diet-related illnesses while also significantly reducing the hospital's carbon footprint.
If all Americans forgo meat for one day a week, it would have the same carbon savings as taking 19.2 million cars off the road for a year. 
With Jersey Shore University Medical Center serving dishes like buffalo cauliflower bites and falafel hash, saving lives and the planet has never been tastier.
Harborview Medical Center
Seattle, Wash.
Investing in clean energy is investing in the health and resilience of your community.
Harborview Medical Center's on-site roof solar array is the largest of any hospital in Washington, significantly reducing carbon emissions, cutting energy costs, and providing lifesaving power during emergencies.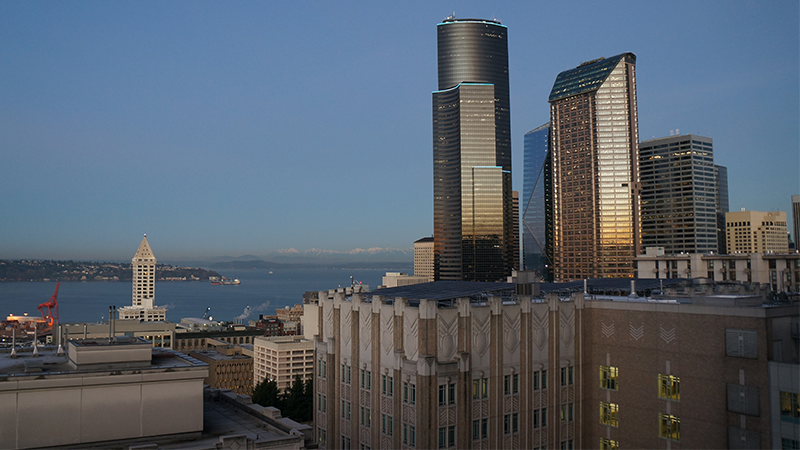 Hudson Hospital (HealthPartners)
Hudson, Wis.
Hudson Hospital has distributed more than 30,000 "veggie prescriptions," increasing access to healthy food for those who might otherwise not have it.
Through this program and others, Hudson Hospital is not only creating healthy food access for patients, they are also supporting a healthy, sustainable, and equitable food system in their community.
 
Lakeview Hospital (HealthPartners)
Stillwater, Minn.
At Lakeview Hospital, climate action extends beyond the hospital walls with staff participation in multiple sustainability councils, demonstrating health care's leading voice in climate mitigation and resilience.
They aren't just an advocate for your health when you're a patient. They advocate for your health through clean air councils, sustainable growth coalitions, and other area groups dedicated to building a thriving community.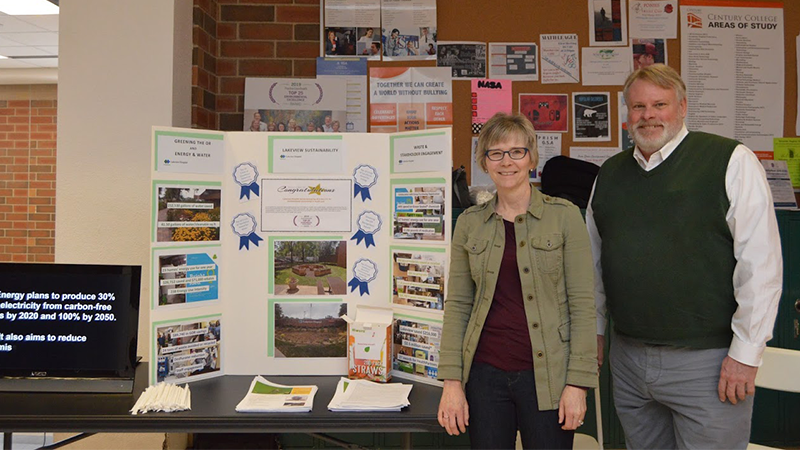 Memorial Sloan-Kettering Cancer Center
New York, N.Y.
Employees who say they have the opportunity to make a direct social and environmental impact report higher job satisfaction than those who don't. 
With 20 sustainability task forces, Memorial Sloan-Kettering Cancer Center is a sustainability leader and a shining example of an organizational culture built on employee and leadership engagement and satisfaction.
Overlook Medical Center (Atlantic Health)
Summit, N.J.
Reducing 1 million pounds of surgical blue wrap is the environmental equivalent of taking 250 cars off the road. 
Overlook Hospital estimates their recycled blue wrap tote bags prevented the use of 100,000 plastic bags and saved the hospital $30,000 in waste handling costs in 2019. In addition to making tote bags, they recycled blue wrap into sleeping bags for the homeless, putting the "purpose" in "repurpose" in the best kind of way.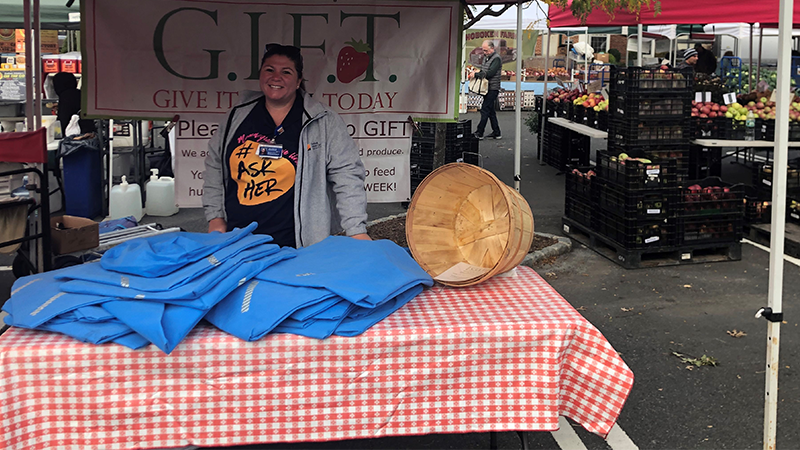 Park Nicollet Methodist Hospital (HealthPartners)
St. Louis Park, Minn.
Environmental action and life-saving measures are often the same.
In 2019, Methodist collected 8,806 pounds of medication through their collection kiosk, ensuring discarded medication didn't get into the wrong hands or into the drinking water through improper disposal. 
Regions Hospital (HealthPartners)
St. Paul, Minn.
Every dollar a nonprofit hospital saves on energy has the equivalent impact on operating margin as increasing revenues by $20.
Regions Hospital is EPA Energy-Star certified as a high-performing building, meaning reduced energy costs can be redirected where they're needed most: patient and community care. By prioritizing energy projects, Regions Hospitals protects their community from carbon emissions while protecting their financial sustainability. 
Ronald Reagan UCLA Medical Center
Los Angeles, Calif.
Patients, employees, and the larger community benefit from the reduction in unhealthy emissions from fossil-fuel burning vehicles. 
UCLA Health uses an all-electric bus to transport patients, staff, and materials throughout the health system, substantially reducing fuel costs and emissions levels. UCLA Health also plans to convert 2% of all parking spaces to EV stations.
Seattle Children's
Seattle, Wash.
A more equitable community is a healthier community. Seattle Children's doesn't just promote health and equity beyond their walls, they make sure it's built into the walls. 
As an anchor institution, Seattle Children's requires at least 10% of their contract budget for new buildings to be spent with local and diverse subcontractors and suppliers.
Stony Brook University Hospital
Stony Brook, N.Y.
Stony Brook University Hospital puts patient, staff, and planetary health at the center of their nature-forward design. Green spaces encourage physical activity, decrease urban temperatures, promote mental health, and reduce air pollution, addressing a number of health impacts.
Featuring native plants, a memorial garden, a walking labyrinth, and an on-site vegetable garden for patient and patron meals, Stony Brook University Hospital maximizes patient healing through nature.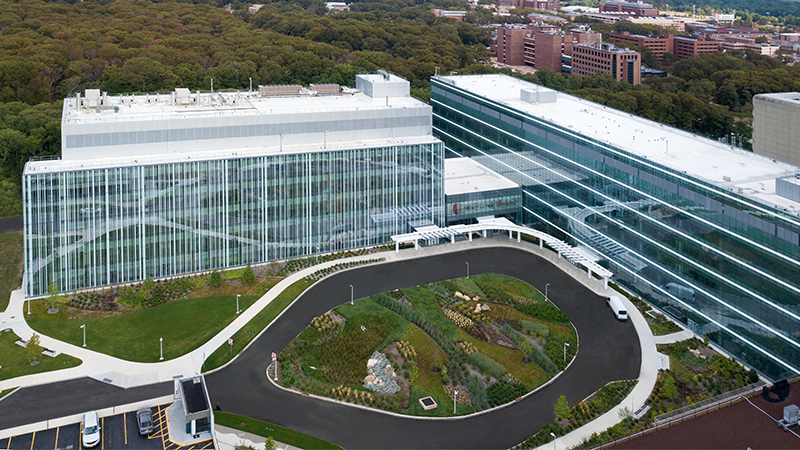 The University of Vermont Medical Center
Burlington, Vt.
Construction debris can comprise up to 36% of overall landfill waste, a source of up to 18% of U.S. greenhouse gas emissions.
In 2019, the University of Vermont Medical Center opened a new inpatient building where 100% of construction and demolition debris was recycled, turning what some might see as "trash" into treasured materials. Through strategic waste diversion, they cut their carbon and waste footprint even before the new building opened its doors.
U.S. Army, Carl R. Darnall Army Medical Center
Fort Hood, Texas
At U.S. Army, Carl R. Darnall Army Medical Center, water conservation helps ensure life-giving and lifesaving water isn't scarce for future generations.
By 2030, studies show global water supplies will meet just 60% of total demand affecting the ability to meet population needs.
The average hospital uses 43 gallons of water per square foot. Through conservation and innovation, U.S. Army, Carl R. Darnall Army Medical Center uses only 29, substantially reducing costs while protecting our most essential resource.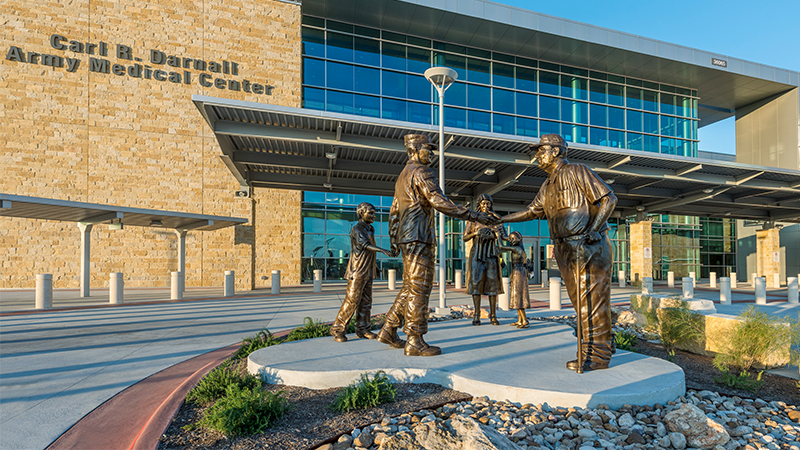 VHA Erie VA Medical Center
Erie, PA
Oftentimes conservation efforts have multi-faceted benefits to human health and a hospital's bottom line. At Erie VA Medical Center, water conservation techniques help everything from the budget to the landscape, with stormwater runoff redirected to the facility's several gardens.
They have reduced water use by 50% through water conservation strategies including a technology that reduces cleaning chemicals, lowering human and environmental exposure to harmful toxins in the process.
VHA James E. VanZandt VA Medical Center
Altoona, Penn.
Reducing exposure to emissions and pollutants from transportation carries a multitude of health benefits for the entire community. 
James E. VanZandt VA Medical Center's increased use of telehealth saves veterans money while also protecting them and the local community from avoidable emissions and air pollutants. Taking it a step further, 100% of the medical center's vehicle fleet has been alternative fuel-capable since 2009.
VHA Ralph H. Johnson VA Medical Center
Charleston, S.C.
A restorative food system ensures equitable access to affordable, health-promoting food, and Ralph H. Johnson VA Medical Center is playing a large part in making that happen for service members and their families in the area.
Their free farmers market distributed 3,600 pounds of fresh, healthy produce to 350 veteran households in 2019, reflecting their deep commitment to addressing food insecurity among veterans.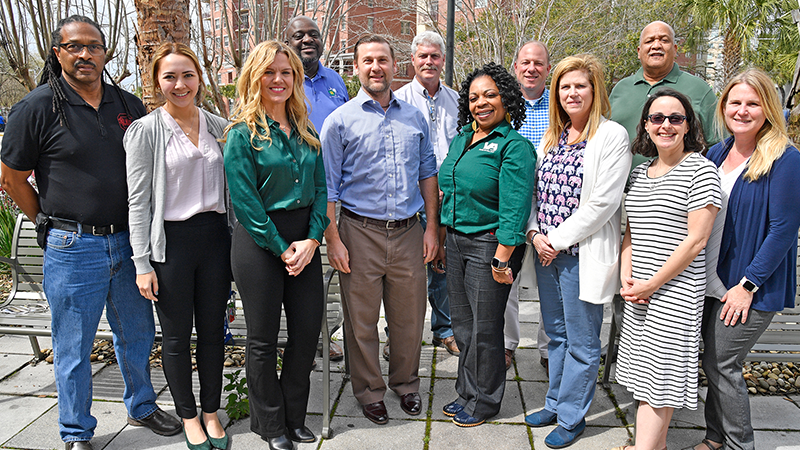 VHA Caribbean Healthcare System
San Juan, P.R.
Stronger energy and water independence doesn't just save money. It saves lives.
The new VA Caribbean Healthcare System Mayaguez Outpatient Clinic produces up to 90% of its energy from solar panels, providing healthier energy every day and lifesaving energy during emergencies. In addition to boasting 100% emergency power, this new site also captures and stores storm water for safe reuse in certain clinic operations.
VHA Clement J. Zablocki VA Medical Center
Milwaukee, WI
Clement J. Zablocki VA Medical Center developed a food donation program that reduces their environmental impact, feeds hungry veterans, improves outpatient programs, and increases access to mental health services.
According to the USDA, 1 in 7 people in America are food insecure.
The medical center's program diverts thousands of pounds of food from landfills, where food waste produces methane, a greenhouse gas 25 times more potent than carbon dioxide over a 100-year period.
VHA Iowa City VA Medical Center
Iowa City, IA
Though a small percentage of a hospital's physical footprint, operating rooms can produce more than 30% of a facility's waste.
After completing its state-of-the-art surgical suite renovation, Iowa City VA Medical Center reported savings of more than $1 million, 23 tons of waste avoided, and a 50% reduction in greenhouse gas emissions from inhaled anesthetics.
Iowa City VA's renovation results show just how much can be achieved when a hospital makes its operating rooms more sustainable.
VHA Minneapolis VA Health Care System
Minneapolis, MN
Minneapolis VA Health Care System shows us the opportunity to protect both human and environmental health is present even in the most unexpected ways.
They demonstrate their commitment to safety and the environment through an innovative ice control method in high foot traffic areas that reduces falls while also reducing exposure to toxic ice melters.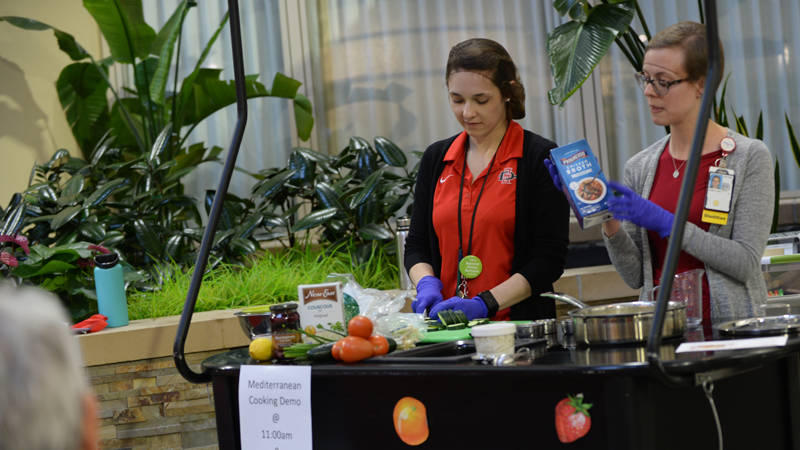 VHA St. Cloud VA Healthcare System
St. Cloud, MN
Avoidable waste is both a burden on a hospital's budget in handling and transportation costs and a burden on the environment when it ends up in a landfill. 
St. Cloud VA Healthcare System avoids both burdens by switching from disposable to reusable items wherever possible. By switching to reusable sterilization containers, St. Cloud VA Healthcare System reduced waste by 7,350 pounds in the first three months while maintaining the highest standards for staff and patient safety. 
 
Join Practice Greenhealth
Practice Greenhealth is the health care sector's go-to source for information, tools, data, resources, and expert technical support on sustainability initiatives that help hospitals and health systems meet their health, financial, and community goals.