Webinars
December 20, 2013 - 1:00 pm - December 20, 2013 - 2:00 pm -- Eastern Standard Time
Topic
"We can't have healthy people on a sick planet." Gary Cohen
A conversation with Gary Cohen, Founder and President of Health Care without Harm and Seema Wadhwa, Director, Healthier Hospitals Initiative
Pioneering environmental health, Gary is President and Founder of Health Care without Harm and the vision behind the Healthier Hospitals Initiative. Gary will lead a discussion, using research and studies to make connections between human and environmental health. Gary's inspirational message can help mobilize leaders to see environmental stewardship as an opportunity for cost savings, mission demonstration, community benefit and healthier communities. Join Gary and Seema and be part of the transformation that is sweeping the world.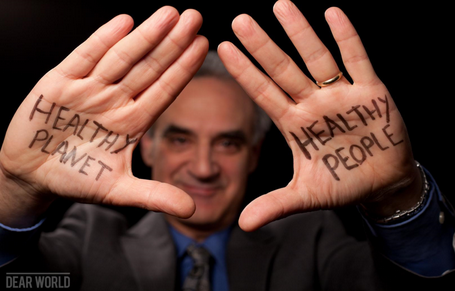 Prior to founding Health Care without Harm, Cohen was Executive Director of the Environmental Health Fund for many years. He has helped built coalitions and networks globally to address the environmental health impacts related to toxic chemical exposure and climate change.
Learn more and engage in the growing movement for sustainable health care and join others in the linking of environmental innovation with cost savings and healthier communities.
Objectives
Cite three connections between planetary and human health.

Identify the six challenge of the Healthier Hospitals Initiative

Name three specific activities that a hospital can take to contribute to healthier environments and cost saving
Presenter
Gary Cohen, Co-Founder and President, Health Care Without Harm and Practice Greenhealth
Mr. Cohen is Co-Founder and President of Health Care Without Harm and Practice Greenhealth. He is a member of the International Advisory Board of the Sambhavna Clinic in Bhopal, India, established to help heal people affected by the Bhopal gas tragedy. He is on the board of the American Sustainable Business Council and Health Leads. Cohen has received the Skoll Award for Social Entrepreneurship. In 2011, he received an Environmental Merit Award from the EPA in recognition of exceptional work and commitment to the environment.
Seema Wadhwa, LEED AP, Director, Healthier Hospitals Initiative
Seema Wadhwa is the Director, Program Management for the Healthier Hospitals Initiative. She also is the Director of Sustainability at Urban Ltd. and serves as the Director of
Sustainability for Inova Health System, an HHI sponsor comprised of hospitals, nursing homes, emergency- and urgent-care centers, assisted-living communities and community health and wellness programs.

Seema is responsible for the creation and adoption of sustainable management practices at Inova Health System. Prior to her role with Inova Health System, Seema spent several years managing engineering design projects. Seema's industry experience extends to advising about best practices in green building and enabling a sustainable approach to the design and implementation of health care projects. She is a Leadership in Energy and Environmental Design (LEED) accredited professional.
Member-Only Event Files
Please log in as a Member first to see the files associated with this event.
View Archived Webinar
You will need to set up an account at our education library using your Practice Greenhealth email. Webinars are free for Practice Greenhealth Members.