Webinars
October 31, 2013 - 2:00 pm - October 31, 2013 - 3:00 pm -- Eastern Standard Time
Topic
Increasingly, hospitals are replacing halogen-based surgical lighting with LED technology. LED technology has a number of benefits, allowing the equipment to pay for itself with supply savings, energy efficiency improvements, clinical performance improvements and clinician comfort. LEDs are significantly more energy efficient, with some models estimated to decrease energy use by 40% over halogen technology. With life spans of about 10-15 years, LEDs last approximately 30 times longer than halogen technology – reducing staff time spent and supply expenses related to bulb changes.
This technology produces significantly less heat, resulting in dramatically improved thermal comfort for the surgical team, while also allowing the OR to be kept at a higher room temperature –furthering the energy savings. Reduced overhead heat decreases drastic room cooling, thereby reducing the risk for patient hypothermia and can decrease the need for patient warming devices. LEDs also, in some cases, exceed clinical performance specifications for halogen surgical lighting, including brighter lighting intensity and improved clarity and color – more close to natural sunlight than any other lighting choice, a great benefit to surgeons.
Join us to learn how the team at Providence St. Peter installed LED lighting, LED surgical lighting in its operating suites and introduced natural day lighting into the Sterile Core - the strategy and decision-making process, challenges and successes, and savings – to make the business case at your facility!
Objectives
Discuss energy usage in the operating room
Review surgical lighting technology – halogen vs. LED
Share strategies for implementing LED surgical lighting and natural day lighting, making the case, and identify the team
Highlight case study data from Providence St. Peter Hospital around energy savings, supply savings, and business case for implementing LED surgical lighting
Presenter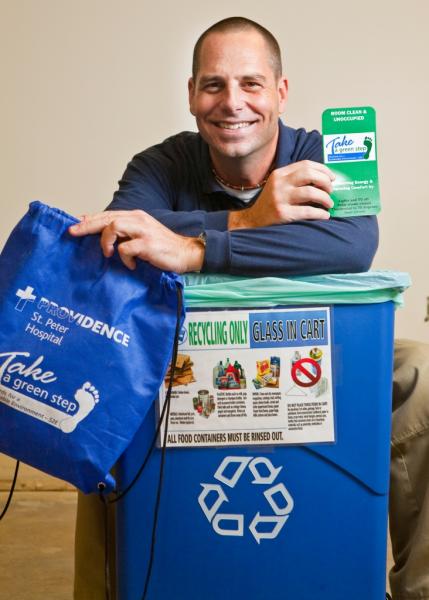 Keith Edgerton, Providence Southwest Washington Service Area
Keith graduated from Kansas State University in 1992 with a bachelor degree in Architecture. Keith's experience includes: 6 years working for medical architecture firms; 6 years working with a commercial general contractor with a focus on health care; and 5 years of custom home building and construction all centered on low/non toxic and sustainable architecture. As the Providence Southwest Washington Region's sustainability coordinator, Keith' efforts to reduce pollution and energy consumption are founded on education, advance monitoring systems and cost saving initiatives. Keith considers William McDonough and Robert F. Kennedy Jr. as his sustainability influences.
Member-Only Event Files
Please log in as a Member first to see the files associated with this event.
View Archived Webinar
You will need to set up an account at our education library using your Practice Greenhealth email. Webinars are free for Practice Greenhealth Members.