Support in Writing
Making the Commitment Sustainable
Leadership support for sustainability principles requires documentation to ensure the commitment can be articulated to all levels of management. For those responsible for implementing changes relative to sustainability programming, engaging with various staff throughout the organization can open doors which were previously shut or save time through clear communication of sustainability as an important area of focus. Putting the commitment in writing also ensures it will persist through leadership changes or staff turnover. Below are some mechanisms to solidify the organization's commitment to sustainability principles.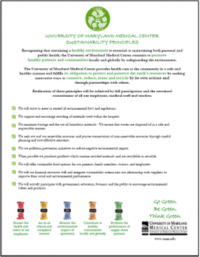 Develop an Environmental Commitment Statement. See sample language here.
Ensure that workplace, patient and community safety are included in core values.
Sign onto the Healthy Food in Health Care Pledge.
Develop policies to support sustainability activities (i.e. waste reduction policy, mercury-free policy, environmentally preferable purchasing policy, or green design & construction standards)
Include sustainability language in general statements, policies,and procedures.
Additional Examples: