Measuring Progress & Reporting
Ongoing Measurement and Assessment
While it is useful to collect data initially, it is equally important to continue to track this information over time, so the organization can see the kind of progress it if making relative to sustainability. Again, many of the different tracking systems offer long-term options for managing different sustainability categories. Some facilities have also created their own multi-category dasboard that looks at all of the sustainability metrics they are generating in a roll-up form. There are also specialty vendors who offer sustainability dashboarding services and tools. Multi-facility systems in particular can benefit from a color-coded dashboard to give an "at a glance" overview of where each site falls on the sustainability spectrum. A tool such as this can help identify internal experts across the system, can provide a way to share successes, and can be used to identify best practices as a means to continuously improve environmental performance.
Many hospitals are also reporting several environmental metrics up to leadership on the executive dashboard. For example, Practice Greenhealth member Metro Health currently reports energy and water used directly to senior leadership while The Cleveland Clinic is reporting energy use and recycling rates to their executive dashboard. Healthcare facilities can also organize so that Joint Commission, Quality Improvement, Safety, Infection Control and the Green Team all use a standardized format for reporting out on their indicators, and utilize an oversight committee where they can come together for clear communication and reporting. This helps avoid duplication and identify synergies and leverage points. Regardless of the structure used for reporting, Green Teams should ensure that executive leadership as well as middle management staff are aware of the organization's sustainability progress, goals and achievements.
Each year the organization should set aside time to update its sustainability data and assess progress. This annual assessment process allows the organization to evaluate the progress made over the past year, as well as determine appropriate baselines for setting goals for the following year. Ideally, this assessment cycle would be timed to coincide with the organization's strategic planning/budget development process so as to ensure maximum synergy. Often, however, it follows the calendar year. Many organizations use Practice Greenhealth's Annual Environmental Excellence Awards program as an opportunity to review organizational progress. Learn more at Recognition & Review.
External Reporting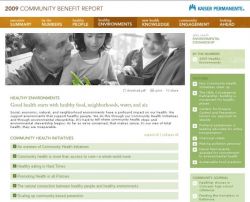 Some hospitals also choose to report on environmental progress to external stakeholders. This may include the community, church sponsors, a local regulatory agency or through an international reporting system such as the Global Reporting Initiative (GRI) or the UN Global Compact. Other facilities choose to report on environmental progress through an Annual Report, Community Benefit reporting or on the organization's website. See examples from Practice Greenhealth membership below:
Examples of Hospital Sustainability Websites:
Stakeholder Engagement
Beyond "official" reporting to an outside entity, there are plenty of opportunities for engagement with external stakeholders. Connecting with external stakeholders can improve efficiency and allows the organization to engage in larger discussions and opportunities for advocacy, partnerships and collaboration. Below are some suggestions on external stakeholders that healthcare facilities can find it beneficial to communicate their sustainability successes and challenges
Partner with state and national regulatory and pollution prevention agencies to help ensure compliance and best management approaches.
Connect with Practice Greenhealth members and use the Environmental Excellence Awards for continuous documentation and reporting.
Reach out to group purchasing organizations (GPOs), suppliers and service providers to explore synergies.
Connect with local and regional sustainability efforts -- with academia, local farms and other organizations to develop programs and connect facility endeavors with regional approaches.