Baseline Assessment
You can't manage what you don't measure. Health care is certainly accustomed to the measurement, tracking and benchmarking of performance criteria. As sustainability becomes engrained in healthcare culture, measuring performance becomes critical. Not only does data help document change and progress, but data can also be used to alert the organizaton when programs need a closer look, even after fully implemented. Learn more about how a healthcare organization can develop a sustainability baseline, track progress and benchmark performance. Practice Greenhealth recommends a fairly standard framework for managing sustainability programs.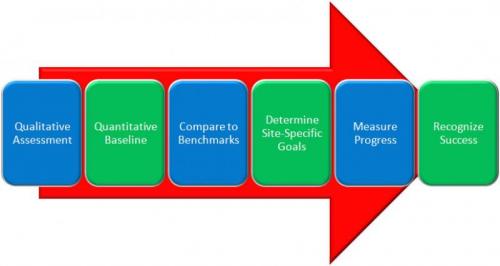 Figure 1. Practice Greenhealth Sustainability Management Process
An accurate baseline allows organizations to understand where they are starting from as well as celebrate environmental successes to date. Developing baseline involves collecting information from different departments and staff across the organization relative to projects and progress related to sustainability. The idea is to get a comprehensive sense of what pieces of work are happening across the organization and then to overlay that qualitative information with quantitative data--so the organization can get a sense of how WELL it may be implementing sustainability programs.
Develop a qualitative baseline.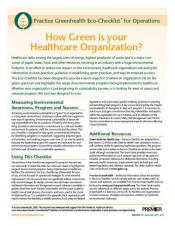 Ranging from a self-audit process to bringing a consultant onsite to do a comprehensive sustainability audit--there are a variety of different ways that a healthcare facilities can develop a qualitiative baseline. Practice Greenhealth's Eco-Checklist tool is one mechanism to assess what programs are already in place or underway across the organization. Many hospitals use this tool in collaboration with their Green Team or with an Environment of Care Committee, where different directors can take on the responsibility of assessing their own departments and then share the results. Practice Greenhealth's Environmental Excellence Awards applications are also a mechanism to assess sustainability programs in place. The awards program also tracks quantitative data, to be discussed next. Despite the tool, the idea is for the organization to understand what programs are underway in what departments and who is currently accountable for those programs.
Overlay with a quantitative baseline.
Now that the organization is aware of what programs are in place or underway, the next step is to collect data relative to those programs--so as to understand how well the organization is implementing the programs. Sustainability programs span a number of different areas--but the typical areas where data collection is critical is relative to:
Waste

Solid Waste
Regulated Medical Waste
Hazardous Waste
Recycling/Diversion
Construction & Demolition Debris

Environmentally Preferable Purchasing
Energy
Water
Greenhouse Gas Emissions/Carbon Footprint
There are a variety if different tracking tools available on the market for different sustainability categories. Ranging from Practice Greenhealth's Greenhealth Tracker Tool for Waste and EnergyStar's Portfolio Manager to service provider-specific solutions, there are a myriad of ways to track quanitiative data. Data collected should include waste produced or energy and utilized as well as cost per unit (lb/ton/kwh/gallon). It is also important as this data is collected to consider how this data can be normalized so as to enable comparison between facilities in a system or across the country. Practice Greenhealth typically utilizes Adjusted Patient Days (APD) as a key normalizer, as it reflects both inpatient and outpatient volume. Other normalizers include staffed or licensed beds, and square footage.
Example of sustainability metrics:
Total waste generated/APD.
Recycling (in tons)/APD
kBTU/sq ft
kwh/sq ft
Gallons/APD
CO2e/sq ft
Learn more about available tracking mechanisms. Or visit Topic pages for more specific guidance.
Compare to Industry Benchmarks.
Once the organization has collected data relative to different program areas, the next step is to perform a gap analysis by comparing the organization's progress to industry benchmarks. Industry benchmarks are not yet standardized, but Practice Greenhealth has developed the first comprehensive set of sustainability benchmarking data, based on healthcare facilities who have applied for and received a Practice Greenhealth award. PGH also works in collaboration with other organizations such as EnergyStar, IFMA and the Hospital Energy Alliance to identify benchmarks for energy, water and climate change information. Practice Greenhealth members can access past Sustainability Benchmark Reports.
There are a few commonly recognized waste benchmarks that hospitals can utilize to begin their gap analysis.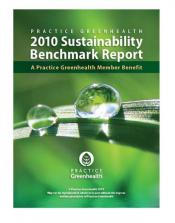 Most hospitals can hit a 10% recycling rate (this is the minimum standard to apply for Practice Greenhealth Partner for Change Award).
Many hospitals are now achieving a 25% recycling rate, with the best performers topping 45%.
Hospitals should be generating less than 15% of total waste as regulated medical waste(RMW).
Many hospitals are now achieving less than 10% RMW, with best performers falling below 8% while still meeting regulatory requirements.
*Practice Greenhealth members: Click here to access past Sustainability Benchmark reports for more specific metrics.
The next step is to compare the healthcare facility's data to the industry benchmarks and perform the gap analysis to determine how well the institution is faring at its individual sustainability initiatives. For example, if the facility is currently disposing of 30% of its waste as RMW, and the industry benchmark is less than 10%, the facility will want to progressively set goals that lead to at least a 20% reduction in RMW. Understanding that RMW costs between 5-10 times as much as solid waste (where regular trash that is currently being placed in RMW containers is typically diverted to), the cost-savings will also be considerable and can be estimated using good cost and volume data. Thus, the sustainability lead can present leadership with a fairly definitive return on investment (ROI) for a goal such as this.
Learn more about how to set strategic, achievable sustainability goals.