Best Practices in Water Conservation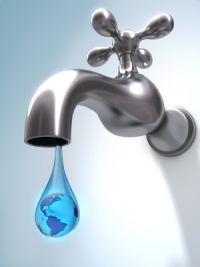 A healthcare facility may undertake a water conservation project using internal resources, or may choose to hire an engineering company that specializes in this subject. Outside assistance is especially helpful when it comes to analyzing equipment retrofit and replacement projects, since new technologies are constantly coming into the market and their true effectiveness is difficult to ascertain from product literature. In addition, outsiders may make it easier to get your project funded because they can organize and format your data in a way that sells your program to management. Some consultants are willing to negotiate "performance contracts" that are structured to guarantee reductions in operational costs over time. Others may offer a "no capital" five-year program that allows hospitals to treat the capital cost as an operating expense.
Steps to Establish a Water Conservation Program
Audit current water use

Install water meters at strategic locations in the facility
Read/record water readings weekly and analyze the data. Look for high water use areas, trends, and unusual occurrencesIdentify water conservation opportunities

Identify water conservation opportunities

Fix drips, leaks, and unnecessary flows
Implement changes to improve practices in cleaning, laundry and kitchens
List opportunities requiring engineering/equipment solutions (toilets, sterilizers, boiler, chillers, etc.)Determine cost of opportunities and potential return on investment

Determine cost of opportunities and potential return on investment
Prioritize water conservation opportunities
Develop a phased plan that fits your budget
Obtain funding (revise plan, if necessary)
Implement plan
Measure and document success
Where to look for Water Conservation Opportunities
Wherever water is used there is often an opportunity for conservation. Here are several ideas for getting started on water conservation projects and programs.
Increase Awareness
Increase employee awareness of water conservation (educate staff, seek suggestions, assign responsibility, post signs, etc.)
Increase patient and visitor awareness of water conservation (e.g., signs in patient rooms and restrooms, publicize water conservation policy)
Pick the low hanging fruit
Locate and correct drips, leaks, and unnecessary flows in bathrooms, laundry, kitchen, labs, etc.
Repair/adjust flush mechanisms on toilets so that they work as designed
Irrigate grounds and wash vehicles less often
Reduce domestic water use
Install toilet tank water displacement devices on older models or replace inefficient toilets and urinals with low-flow models
Retrofit flushometer toilets with water-saving diaphragms
Before selecting new equipment (e.g., low flush, dual flush), check out third party tests to determine actual effectiveness. Under third party maximum performance (MaP) tests, toilets are tested to see how much waste they will flush away instead of their ability to clear away a minimal amount of media.
Install flow reducers (<2.5 gpm) and aerators on sinks and showers
Install automatic shutoff valves or motion sensor-activated faucets
Processing Equipment
As appliances and equipment wear out, replace with air-cooled or water-saving models
Develop a steam trap inspection plan and replace faulty steam traps with effective, low-maintenance units
Install steam condensate temping systems on vacuum and gravity sterilizers (retrofit kits are available)
Replace water-induced vacuum devices on sterilizers with electric pumps (retrofit kits are available)
Replace or retrofit continuous flow-through systems on film processors with flow control equipment
Recover condensate from refrigerators, freezers and icemakers for reuse
Water Reuse
Water can be taken from the reject side of the radiation therapy linear accelerator (creates high-energy radiation to treat cancers) heat exchangers and pumped to the facility's cooling towers and reused for evaporative cooling
Reject water produced in the reverse osmosis process can be reclaimed for non-miscellaneous potable water use or in the cooling towers
Water Supply/Systems
Install pressure-reducing valves where system pressure is higher than 60 psi
Reduce excessive blow down of cooling towers; operate cooling towers near manufacturer recommended level of total dissolved solids (TDS)
Consider using ozone as a cooling tower treatment to reduce water used for make-up
Return steam condensate to boilers for reuse
Minimize water use for irrigation (e.g., adjust or repair sprinklers, install wet weather shutoff and/or soil moisture controllers)
Investigate sources of used water
Kitchen and Laundry
Wash only full loads in the dishwasher
Turn off the continuous flow used to clean the drain trays of the coffee/soda beverage island (only clean the trays as needed)
Reprogram washing machines to eliminate additional rinse cycles, if possible and not restricted by the health department
Wash full loads only or reduce water levels to minimize water required per load of washing
Key Resources for Water Conservation
An abundance of water conservation methods and techniques applicable to healthcare facilities are available. The following are sites Practice Greenhealth found to be particularly useful resources. (Please note that links to commercial sites or commercial product literature are offered as examples of available information and should not be considered an endorsement. If you have information you would like see posted here, contact Practice Greenhealth.)