Earth Day 2015 Member Events
MetroHealth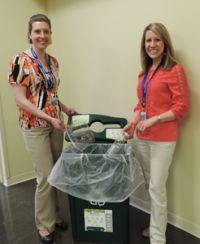 MetroHealth set up a table in their main cafeteria where employees and patients can find out answers to all of their recycling questions, from 11:30 a.m. - 1:30 p.m. every day during April 20-24. They are also helping them "know where to throw" their trash and recyclables, by directing them to the appropriate bin.
Sam Rayburn Memorial Veterans Center
Employees come by to ask questions and learn about how the three pillars by which the Sam Rayburn Memorial Veterans Center bases their care of Veterans incorporate environmental stewardship. These include Safety Quality and Value, Patient Centered Care and Servant leadership. There are visual aides to help understand how the Veteran's Center uses them on a daily basis with everything they do for sustainability. There is a week-long challenge for plastic bottle recycling with proceeds going for the local Brookshire's and Arbor Day Foundation to help with their 5 year plan of reforesting Lost Pines Forest in Bastrop, TX which had a wildfire in 2001. This is the third year for this effort.
HSHS St. Joseph's Hospital
The Reverence to the Earth Green Team of HSHS St. Joseph's Hospital is coordinating a couple of events as part of their Earth day celebration.
In conjuction with these events wil be interesting displays, free gifts and opportunities to register for great door prizes including our grand prize of a $100 gift certificate toward anything in the store at the Down to Earth Garden Center, Eau Claire.
Washington Hospital
Washington Hospital hosts a Let's Go Green Together event in cooperation with the City of Fremont. This events attracts 300-400 attendees, with a record of "tables" with 57 indoors and 31 outdoors, representing 58 exhibitors for 2015. At this year's event, there will be activities to learn more about recycling and waste reduction, saving energy at home and local sustainability programs.
Tampa Bay General
Tampa Bay General is hosting an Earth Day Resource Fair and accompanying "Green" documentary film festival with CE credits.
University of Colorado Health
Five green tips to guide your Earth Day activities used in email signature from University of Colorado Health.
Here are five green tips to guide your Earth Day activities and help the planet:
Plant a tree. An average tree can absorb one ton of carbon dioxide over its lifetime.
Recycle. Recycling 1 ton of paper saves 7,000 gallons of water and 3 cubic yards of landfill space.
Use cold water. Using cold water can save up to 80% of the energy required to wash clothes.
Dial it down. Moving your thermostat down just two degrees in winter and up two degrees in
summer could save about 2,000 pounds of carbon dioxide per year.
Turn it off. Make it a habit to turn off the lights when you're leaving any room for 15 minutes or
more. Switch off power strips and unplug electrical devices when you're not using them.
Beaumont Health, Royal Oak Hospital
Royal Oak Hospital did the following things for Earth Day 2015:
Made a simple GREEN poster reminding all to recycle, reuse, stop waste.
Typed a 2-page (double-sided) handout of useful GREEN homemade cleaners, air fresheners.
Purchased several cases of oranges and distributed one/person with instructions (on the handout) to use the orange peel to make the air-freshener. (Sources: Orange Candle, Make DIY Natural Clementine Candles)
Hackensack University Medical Center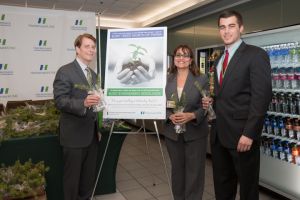 Hackensack University Medical Center measured their reams of paper use over two years to measure the success of their paper reduction strategies. They decided to use this data for Earth Day 2015 to not only promote continued awareness of their paper reduction initiatives but to bring awareness to the connection between paper use and climate change. They gave away 6,057 seedlings, one for each tree's worth of paper Hackensack used as part of their Earth Day celebration. The planted trees will also add to beautification of their community.
Lawrence+Memorial Hospital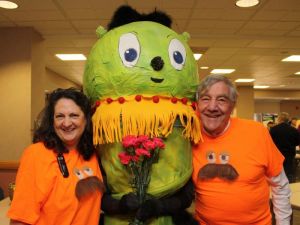 Lawrence and Memorial Hospital had an Earth Day Fair (their second) with an array of vendors, including a small indoor Farmers Market area. Some of the vendors: their trash hauler (big single stream recycling exhibit); Stericycle; 2 solar/green energy companies; a local bike organization; a nature center; master gardeners with displays on bees, Monarch butterflies, invasive plants, native landscaping, growing grapes and making wine. The farmers market featured someone selling jams, jellies, honey and maple syrup; goats milk soap; garden plants and seeds; hydroponic plant towers and Juice Plus products.
They collected eyeglasses and eyeglass cases to refurbish through the Lions Club, who sends them to 3rd world countries.
They collected empty computer ink cartridges to recycle through the hospitals photocopier maintenance company.
They had people sign up and pledge to ride their bike to work on a designated day in May when we'll have a "Bike to Work Breakfast".
For handouts, they purchased packets of milkweed seeds. They also collected 300 used K cups and made little seed starting kits with soil and seeds.
They had Lorax T shirts (bright orange!) to help identify contact people.
They had someone dress up as a caterpillar and hand out flowers and travel throughout the hospital to generate interest and cheer up patients.
Seton Healthcare Family

Seton Healthcare Family hosted Earth Day tables at their three largest hospitals' cafeterias. The tables displayed facts about recycling and composting. Hospital employees and visitors played the "waste toss" game - put the waste in the correct container and win a reusable prize! The cafeterias also featured locally grown, organic food choices and messages about conserving water and supporting sustainable food.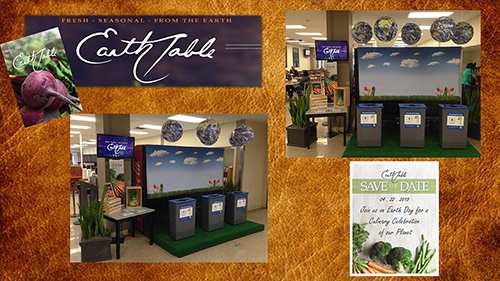 Seton Healthcare Family
Seton Healthcare Family created an Earth Day challenge for their12,000 employees - the Ugly Mug Challenge. Throughout Seton, thousands of disposable, white styrene cups are used each day. A typical large Seton facility typically goes through around 25,000 cups a month. If you laid those cups end-to-end, the resulting line would stretch from UMCB to the front of Dell Children's. Multiply this by the number of Seton hospitals and clinics and you get a number that is truly staggering.
In celebration of Earth Day 2015, Seton is encouraging associates to kick the styrene cup habit by bringing a ceramic coffee mug to work and using it instead of disposable cups.
Seton Healthcare Family Ugly Mug Challenge Flyer
St. John Providence Hospital Southfield
The St. John Providence Hospital Southfield Green Team was excited to host a number of Earth Day endeavors this year! On Earth Day, they had a table in their cafeteria with handouts discussing sustainable eating and composting as and passed out reusable grocery bags to associates and visitors. They also launched a week long shoe drive through Soles4Souls, a not-for-profit organization that distributes shoes to people in need in the U.S. and overseas. They hoped to raise awareness to reuse and recycle at theirEarth Day events!
Inova Health System
Our Environment=Our Health Webinar (On-Going)
Learn about the link between our environment and our health. This seminar is part of WellAware's Healthy Mind series, and will highlight the various ways that environmental health impacts our physical and mental health. You'll get 50 WellAware points for participating!
Learn more on InovaNet.
Earth Day WellAware Fair
April 22 | 11:30 a.m. - 1:00 p.m.
Celebrate Earth Day at Inova by learning about Inova's WellAware activities.
Inova Going Green will be providing free tree seedlings
Morrison's Chefs will be providing an exhibition style demonstration of Asian Sesame Kale Salad
Health Source will be highlighting programs to help you along your journey to health.
Please note there are limited quantity on tree seedlings that will be offered on a first come basis.
Learn more on InovaNet.
WellAware Eat Well Cooking Class
April 22 5:30 p.m. – 6:30 p.m.
Join Inova's team of expert chefs for a cooking class exploring the connection between health, the environment and food. During this hour long class, participants will practice food preparation techniques, receive tips for maximizing flavor and taste, learn about the dishes they are preparing and discover all the delicious healthy ingredients available locally in Virginia.
Cost: $20 including a take home meal for four
50 WellAware Points for Participation
Learn more on InovaNet.
Brookwood Medical Center

Earth Day activities and eco-friendly education among employees was distributed in a special edition of an internal In the Know newsletter distritbuted to all staff.
Bon Secours
Bon Secours worked with local school children in their communities to educate them relative to recycling and related Green programs that they can support. Related PowerPoint Presentation.
Spectrum Health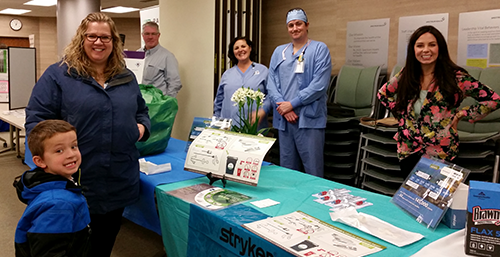 Spectrum Health's celebration of Earth Day lasted all week with a theme for each day: sustainable food, water conservation, energy, waste, and transportation. On Wednesday, many of their locations hosted events with information from vendors and local sustainability advocacy groups. At Butterworth hospital in Grand Rapids, they had several vendors as well as our transportation and OR departments presenting about the great work they do all year round. They requested that participants bring donations for one of our clinics which offers a food pantry and clothing for needy patients. They also took our celebration online, asking our staff to share on our internal social sharing site how they contribute to making Spectrum Health green.
Phoenix Baptist Hospital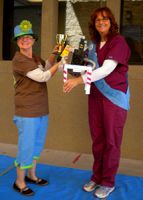 Blue Wrap Fashion show (Karina Palomino with designer Linda Quiroz) and Robot competition exposed the creativity of Phoenix Baptist Hospital's staff .
Congrats to Karina Palomino/Linda Quiroz (Blue Wrap Fashion Show winner) and Remi Chacon and Acute Rehab Unit.

Littleton Adventist Hospital
On Thursday, April 23, Littleton Adventist Hospital's Sustainability Team (known as "The Green Team") hosted its 6th Annual Earth Day Celebration in the atrium. The event featured nearly two dozen activities, booths and giveaways. Associates and visitors learned more about how they can can be more green, at work and at home, while supporting a healthy planet and personal lifestyle.
Displays included the Highlands Bee Club, CSU's Colorado Master Gardeners, Republic Waste, The Wild Animal Sanctuary, Stericycle, Garden Towers, Creek Side Gardens nursery, organic culinary herbs, Project C.U.R.E., Microgreens and Mushroom information, the hospital's Linen Use Reduction program, an aquaponics demonstration, Sterilmed, the Humane Society of South Platte, CREATION Health, Colorado's Bike to Work Day and the Centura Health June Bike Challenge, Way To Go, Farmer's Market information, and the ever popular Hawkquest. There were special Earth Day treats and healthy snacks from Saj Mediterranean Grill, Pepsico Foodservice, and the hospital's own Chef George and nutrition services. The day also featured an Earth Day scavenger hunt with prizes for participants to really visit and learn from each booth.
Earlier in the week a large truck of compost was also dropped off on the hospital's grounds for associates to take home to mix with top soil for their personal gardens. The compost comes from the hospital's very own compostable waste that is gathered over the course of the year and then brought back to be reused by associates, complimentary of the hospital.
The Earth Day celebration was already so full of activities that they decided to schedule the personal document shredding and home electronics recycling opportunities on a different date this year, when associates can focus exclusively on these activities.
Shriners Hospitals for Children
Below are a few pictures of our Shriners Hospitals for Children Earth Day Fair. Two outside vendors participated: Waste Management and Elevate Energy. there were tables displaying Café recyclable products, how to reduce your packaging when purchasing products, and OR savings with energy setbacks. There was "Guess the number of bottle caps" contest and a Trash talk game in which staff had to guess which waste stream the garbage should go into. They also displayed the outfit that was made with Blue wrap and shared the celebrating for Administrative Professionals Day and had Green River ice cream floats.