Cohort Groups
Co-hort: (kōˌhôrt) A group of people who share a characteristic
Summer 2017 kicked off small Cohorts, for eligible members, to help members connect over a shared area of interest through discussion of a specific topic per call. The periodic calls are facilitated by a Practice Greenhealth Member Engagement Liaison with a question to frame each call's discussion or to tackle a specific area of focus. The informal structure allows for a fun way to share challenges, obstacles and strategies for success. Practice Greenhealth convenes the calls, facilitates the discussion and posts key take aways after the call on the website. The goal is to help member organization's move further along its unique trajectory, learn from each other and have fun within an hour.
Hospital Partner members and Health System Partner contacts are invited to a minimum of one cohort. Highlights are posted here. Questions? jhoward@practicegreenhealth.org. Membership Benefits are found here.
| | |
| --- | --- |
| Member Engagement Lead | Cohort Group |
| Iqbal Mian | Great Lakes Region – Focus on Energy and Water |
| Julie Moyle | Getting Started in Greening the OR |
| Hermine Levey Weston | Children's Hospitals, Top Performers |
| Janet Howard | Just Getting Started, Large Health Systems, Healthy Interiors (planning) |
| Lauren Koch, Thresa Pattee | Community Benefit Connection |
| Kaeleigh Sheehan | Greening the OR Top Performers, Federal Facilities |
| Beth Eckl | Supply Chain and Purchasing (2 separate cohorts) |

Cohorts Featured in Summer 2017 issue of Greenhealth magazine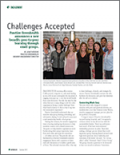 This new cohorts benefit was featured in the Summer 2017 issue of Greenhealth magazine. Enjoy the article by Janet Howard, Practice Greenhealth Member Engagement Director.