Earth Day 2016 Member Events
Westfields Hospital & Clinic
Westfields Hospital & Clinic will again be hosting a number of events during its annual Earth Day celebration. There will be a special Earth Day Farmers' Market on campus that day with vegetable and flower seedlings for sale, arts & crafts focused on reusable goods, Planting and Growing hints and tips from several of our regular, weekly Farmers' Market vendors. We will also be giving away 600 tree seedlings to the community. Westfields will also be holding an electronics recycling event for the community in conjunction with its Earth Day Farmers' Market. In addition to the Farmers' Market, Westfields Hospital & Clinic also sponsors an Earth Day Community Tree Planting Event. In partnership with the local middle and high school, 75 tree seedlings were planted at 5-different community locations in 2015. For the 2016 event, this will be expanded to 7-different locations across the community!
Beaumont-Grosse Pointe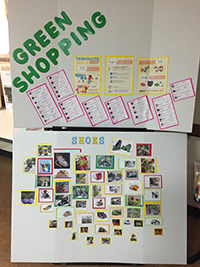 Provide booth space for:
Resale/consignment shops to show case wares
Bikes shops to present new transportation ideas
Host scrub exchange among employees
Health Food store provides samples
Electrical ideas from DTE
Recycling Ideas- Giving new life to old things

HealthPartners Regions Hospital
Regions Hospital celebrates Earth Day with street clean-up and electronics recycling event.
Washington Hospital
"Let's Go Green Together" Earth Day event. For the past six years, Washington Hospitalwe has co-hosted this event with the City of Fremont. They are deep in the planning, and are adding bicycle valet this year.
From last year:
Sharps: 2 - 50 gal containers
Mercury Thermometers: 36
Medications: ~ 160 pounds
Eye Glasses: (not counted ~ a dozen)
Confidential Paper Shredding: 2,240 pounds
Torchier Lamps Exchanged: 20 (all they brought, plus 14 more waiting with rain check), 46 sign ups plus more coming in online
Bicycle Rodeo Attendees: 41
Pollution Prevention Pledge: 217
Bicycle Tune-ups: 25
Plants given away: 750 ( 650 California Natives & 100 Rare Fruits)
Exhibitors: 49
Attendance: ~ 450 - 500
Washington Hospital and the City of Fremont Celebrate Earth Day
St. John's Medical Center
Bonnie Maddex, RD, St. John's Medical Center, Sustainability Coordinator, will have an article in the monthly employee newsletter about Earth Day. Then on Earth Day, they are planning a special lunch in the cafeteria and will have a display in the lobby to hand out mung bean and radish seeds and instructions for spouting.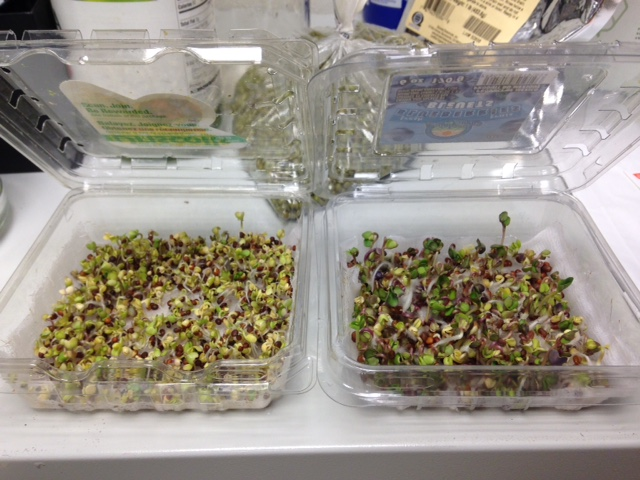 St. Catherine Hospital Green Team
Starting March 25, 2016, St. Catherine Hospital Green Team is conducting a email-based environmental trivia contest. Respondents who answer correctly will be entered into a drawing that week for a prize. This year, prizes consist of a reusable bag containing a few giveaways on hand, as well as a $10 gift card donated by our own Green Team members. There will be one trivia question per week for four weeks. On Earth Day, the green team will host a Knowledge at Noon presenation, with the KState Extension Office located in Garden City, Kansas giving the presentation for our associates. The presentation will focus on growing herbs, vegetables, etc., in the home year round. For each associate attending, they will be giving away a reusable mug.
Yakima Valley Memorial Hospital
Plant a Seed Day
Help celebrate Earth Day this year by planting in the Memorial Cafe Garden! Memorial is committed to increasing access to fresh fruits and vegetables to the community. This year, Memorial will be doubling the size of their garden! Last year the first ever cafe garden harvested 2,800 lbs of organically farmed produce that was served on patient trays and well as in the cafe in the salad bar and on entrees.
HackensackUMC
HackensackUMC is celebrating Earth day by giving away 5,000 basil seed starter planters. They continue to encourage healthy eating — get started with a kitchen basil garden! They will feature recipes with basil in our on campus cafes and encourage staff to share their favorite healthy recipes. They're also recognizing The Deirdre Imus Environmental Health Center —Celebrating 15 Years Protecting Children's Health & the Environment. They will have information tables for staff and visitors highlighting our commitment to sustainability.
Lenox Hill Hospital
Lenox Hill Hospital Celebrates the 45th Annual Earth Day at Victory Greens!
Lenox Hill celebrated the Grand Reopening of Victory Greens, our rooftop garden located on 4 Achilles, on April 22, 2016 from 12:00pm - 2:00pm. Other activities included a tasting of locally grown food and a Q&A with a local farmer, as well as a tour of their new green ambulance.
Dartmouth-Hitchcock
Dartmouth-Hitchcock hosted a free electonice recyling day on Earth Day, April 22. Participants were asked to bring in their home electronics on to get them responsibly recycled, at no cost! more information
Dr. James N. Weinstein, CEO and President of Dartmouth-Hitchcock sent this letter to all employees in conjunction with Earth Day.
Hospice of the Western Reserve, Inc.
Compass newsletter is the agency wide e-publication that reaches all staff at Hospice of the Western Reserve, Inc. Usually distributed no later than the middle of the month, it reaches over 1,100 team members. In March's issue, the Green Team published an article on Earth Day and wove various accomplishments, statistics, and trivia throughout the text, all relevant info was italicized. At the top of the article, staff was informed that there would be a trivia contest to honor Earth Day in the April Compass newsletter. The contest will be delivered via Survey Monkey. Winning entries will be placed in a drawing for a gift bag stuffed with recycled, repurposed, and sustainable items. A photo of the gift bag will be published along side the trivia contest to create greater participation.
Bright Corner Gift Shop
The week of Earth day April 18-24 the Bright Corner Gift Shop is having 20% off all drinkware in the store to encourage people to reuse drinkware and avoid throw away containers.
Tampa General Hospital
Earth Day Resource Fair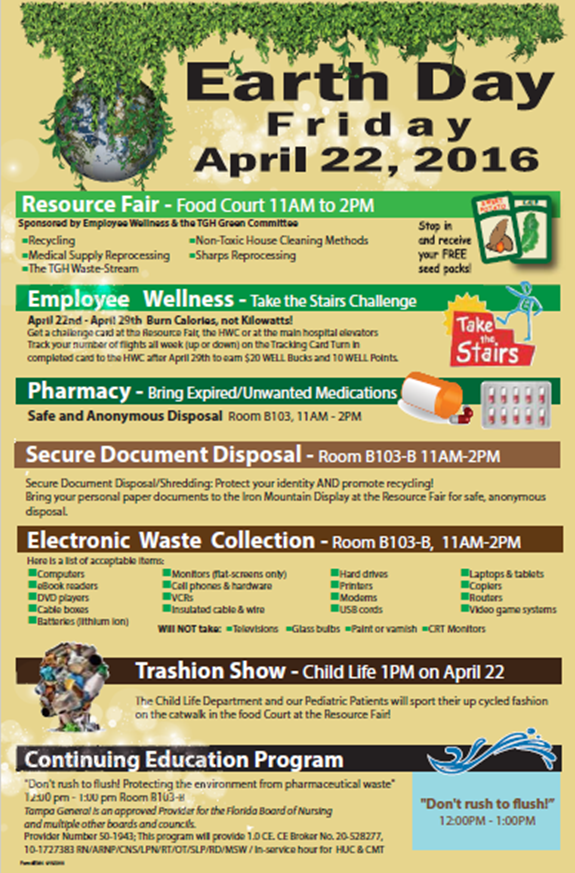 Tampa Bay General is hosting an Earth Day Resource Fair on April 22 featuring a solar energy demonstration, environmentally-friendly landscaping and pest management, local carpool/vanpool/rideshare options, take-back and collections, and more. In addition, they are hosting a Continuing Education Course: "Don't rush to flush: Protecting the environment from pharmaceutical waste" and a "Trashy Fashion Show."
Take the Stairs Initiative:
Tampa Bay General is promoting a Take Back the Stairs initiative, with posters and promotional magnets circulated at stairwells and elevators. Employees will be given a tracking card to track their "flights" of stairs through the following Friday. The tracking cards can be turned in to Employee Wellness for $20 WELL-bucks and 20 WELL-points which accrue toward heath insurance premium discounts.
Magee Womens Hopsital of UPMC
Business units across the system are holding a variety of activities during the month of April to celebrate Earth Day.
Lehigh Valley Health Network
Lehigh Valley Health Network (LVHN) will be holding a joint Safety and Earth Week fair the entire week of April 18, in order to reach several hospitals and off-site locations. At the fair, LVHN will highlight 2015 waste stream numbers and have interactive posters to show waste costs and recycling.
The highlight of the fair is to showcase the community outreach project. In late December 2015, LVHN partnered with a local high school sewing class, Louis E. Dieruff High School's Sew What? Club, to create bags, ponchos, tarps, and bedrolls out of clean, sterile blue wrap. These items were then donated to LVHN's Street Medicine program for our homeless population. The Sew What? Club meets once a week and eagerly took on this new project. The kids are amazing and extremely grateful for a chance to help out their community. Their compassion has lead this project to be a great success.
Johns Hopkins Hospital
Johns Hopkins Hospital will host an Earth Day Celebration with an Awards Ceremony and a "Lunch'n Learn" with keynote speaker, Robert Oberle from Baltimore Gas and Electric. He will be discussing Smart Energy Savers Programs.
Advocate Good Samaritan Hospital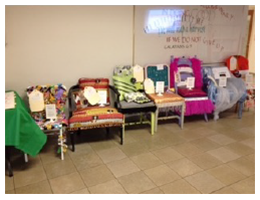 The Green Team and other departments will be doing the following:
April 6 - Lunch n' Learn- Energy, Water, Climate
April 19 - Lunch n' Learn- Gardening Safely and Sensibly
March 17 - April 22- Chairs on Parade Contest (repurpose old chairs from the resale shop), Silent Auction
April 21-22 - Office Supply Swap - sponsored by the Green Team
April 22 - Free Give a way! 500 11"-14" Colorado Blue Spruce trees, sponsored by the Green Team
Harborview Medical Center
The 2015 Earth Day celebration was a joint effort between the Environmental Sustainability Steering Committee, Harborview Rewards & Recognition Committee and The Whole U, the University of Washington's wellness program for staff and faculty. The theme for 2015 was "Every Day is Earth Day". The Earth Day Challenge was to "Skip the Elevator & Take the Stairs!" The goal was to climb 250,000 stairs on Earth Day. A total of 276,530 stairs were climbed by 480 staff members in the 24 hour period, surpassing the goal! Water bottles were handed out randomly in the various stairwells throughout the day and evening to encourage the stair climbers. Throughout the week staff was able to test their knowledge of environmental sustainability at Harborview by filling out an online Catalyst Survey. Everyone who completed the survey was entered into a drawing to win one of four countertop compost bins. A display to highlight our environmental sustainability efforts and the 2014 Practice Greenhealth awards was setup in the Cafeteria. Packets of dill weed seed were handed out. On the Saturday prior to Earth Day, staff had the opportunity to volunteer for the Duwamish River Cleanup project.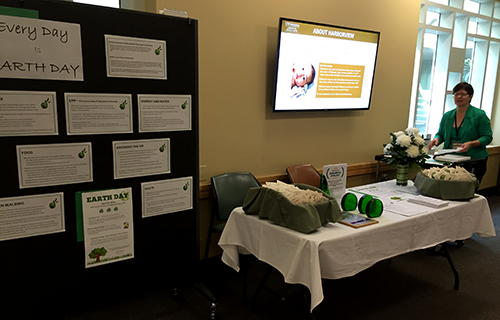 Central Alabama Veterans Health Care System
The Central Alabama Veterans Health Care System (CAVHCS) will celebrate Earth Day on April 20 at the Montgomery campus and the 22nd at the Tuskegee campus. Over 15 booths will display different medias to educate both V.A. employees and Veterans such on things like; native/invasive plants of Alabama, the water cycle, the importance of recycling, reducing the hazardous chemicals in the work place, how to respond and properly clean up a spill to reduce environmental impacts, and so much more. CAVHCS will have areas set up where visitors can take part in a hands on experience by learning to upcycle old t-shirts into reusable bags, and will also have presenters from the National Forests in Alabama, and V-ride vanpooling. Celebrate Earth Day 2016 with CAVHCS.
Kaiser Permanante - San Rafael
Kaiser Permanante (KP) is having a TRASHTUSDAY/BUTT BUSTER event on April 19. They have staff volunteer to do volunteer neighborhood cleanup and also provide lunch. KP also will have a "booth" setup in the cafeteria on April 22. They we will be collecting empty toners and ink cartridges and we will recycle them. There will be story boards to share what green efforts we have accomplished and what they are still working on to keep Kaiser green.
Northwell Health
Northwell Health is celebrating Earth Day Week with a variety of event including a Go Green photo contest, a rideshare program, a green ambulance tour and more.
Princeton House Behavioral Health
Princeton House had an Eagle Scout Project build planters on the patient patio for fresh herbs and the vegetable garden. These will also serve as patient actitivity programs in Allied Clinical Therapy to promote healthy eating - lower sodium cooking and nutrition for sobriety. On Earth Day, the patients will assist in planting the gardens and weekly groups will help tend the gardens, recipes will be provided in the nutrition education lectures. Patients will also be able to have the chef show cooking demonstrations using these fresh herbs.