Healthier Hospitals Initiative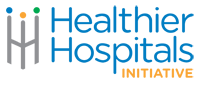 The Healthier Hospitals Initiative (HHI) is a national campaign to implement a completely new approach to improving environmental health and sustainability in the health care sector. Eleven of the largest, most influential U.S. health systems, comprising approximately 500 hospitals with more than $20 billion in purchasing power, worked with Health Care Without Harm (HCWH), the Center for Health Design and Practice Greenhealth to create HHI as a guide for hospitals to improve sustainability in six key areas: engaged leadership, healthier foods, leaner energy, less waste, safer chemicals, and smarter purchasing.
The Healthier Hospitals Initiative is a call-to-action for an entire industry. It is an invitation for healthcare organizations across the country to join the shift to a more sustainable business model, and a challenge for them to address the health and environmental impacts of their industry.

By creating a collaborative setting which engages all stakeholder groups and gives each individual player the tools they need to succeed, HHI has created a platform to help healthcare organizations affect widespread, meaningful change.