GCO Calculator History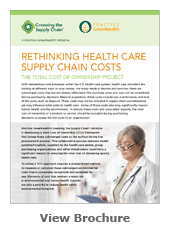 Here is an overview of the development of the Greenhealth Cost of Ownership (GCO) calculator.
Through Practice Greenhealth's Greening the Supply Chain® Initiative, several business members (part of the Business Leadership Coalition) initiated developing a Total Cost of Ownership (TCO) Framework for health care providers to evaluate the total cost across the lifecycle of a medical device's use from purchase to end-of-use (disposal, reuse, etc).This decision was based on feedback from a CleanMed 2013 preconference where the biggest barrier to purchasing environmentally preferable products was identified as cost. After month's exploring the idea, the businesses agreed to pursue the project.
Phase I
In January 2014, Phase I launched to assess many elements of a TCO tool, including the scope of costs and products that could be included, proving the concept through use case studies, and benchmarking existing TCO tools and best practices to utilize in a tool. Practice Greenhealth utilized a consulting firm, Trucost, for Phase I who was also tasked with exploring key user requirements for the tool in order to be successfully integrated within purchasing processes. The results from this work shaped the types of cost included in the tool.
The scope of products the tool could support proved that a TCO tool could easily apply beyond the health care sector to include products and services purchased in other sectors, such as office equipment, cleaning products and more.
Phase II
Based on Trucost's work and recommendations in Phase I, Practice Greenhealth and the TCO sponsoring organizations embarked on Phase II in January 2016 with the following actions:
Develop the Greenhealth Cost of Ownership (GCO) Calculator and supporting documentation (User Guide).
Test the GCO Calculator through a pilot program.
Conduct a repeatability and reproducibility analysis to ensure consistent cost outcomes.
Deploy and promote the GCO Calculator.
Provide education and training on the GCO Calculator's use.
The Greenhealth Cost of Ownership Calculator, v1.0 and Toolkit launches in September 2016.