2016 Visionary Leader Award Winner

John Messervy, AIA
Corporate Director of Design and Construction
Partners HealthCare, Boston, Mass.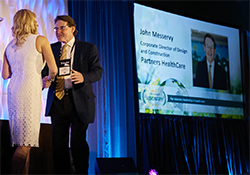 John Messervy is an architect and the Corporate Director of Design and Construction for Partners HealthCare, Boston, an 11-hospital network that includes the Massachusetts General Hospital, and Brigham and Women's Hospital, the primary teaching hospitals of the Harvard Medical School. At Partners, he is responsible for Partner's multi-year facility planning program and their large-scale construction projects. During the past decade Partners has constructed and renovated 6 million square feet of space for clinical, research and administrative uses, including 3 million square feet of new LEED Gold facilities. Of particular note is the development of the Spaulding Rehabilitation Hospital on Boston Harbor, the first purpose-built climate resilient hospital constructed in the US. John founded Partners Sustainable Initiatives program and co-chairs Partners Energy Master Plan Task Force which has set a goal of realizing a 25% reduction in energy consumption by 2020 and to increasing the use of on-site cogeneration and non-carbon based energy sources. Today 60% of Partners sourced energy is carbon free and Partners has reduced its energy consumption by 16% from 2009. John also co-chairs Partners Resiliency Study, a detailed evaluation of 30 key clinical, research and administrative sites in eastern Massachusetts and their vulnerability to climate change over the next 50 years.
Partners was one of the founding hospitals of the Healthier Hospital Initiative and John chaired the HHI Steering Committee. Partners is also a founding member of the Greenhealth Exchange. He also co-chaired the Boston Green Ribbon Commission Health Care Working Group Facility Leaders, bringing together facility staff from 22 diverse, often-competitive hospitals to collaborate to reduce the sector's collective GHG and benchmark sector progress, a first in the nation for any metro area while at the same time helping the entire Green Ribbon Commission--including 30+ executives and the Mayor to truly understand that climate change is a health issue, that health care is 'on the front lines' in supporting action. John has managed to engage the C-Suite at Partners in the greening of hospitals with quiet advocacy translating the goals of Health Care Without Harm into the language and challenges of the healthcare sector. Starting with cost savings in energy, waste and materials he has established a credibility that has allowed him to successfully advocate for the more far-reaching goals of long term sustainability in buildings, toxins in the supply chain and healthy food and the resiliency strategies that are being adopted for responding to the effects of climate change. His colleagues note, when he chairs meetings, makes a presentation to one Board or another, or works internally with staff, John has a naturally quiet and modest manner governed by his obvious sense of humanity and his sharp intelligence. He leads by allowing others to lead and take initiative within a commonly agreed direction. These qualities are the basis for the high regard in which he is held by all those who work with him.