2015 Visionary Leader Award Winner

Jeffrey Thompson, MD
Executive Advisor and CEO Emeritus
Gunderson Health System, LaCrosse, Wis.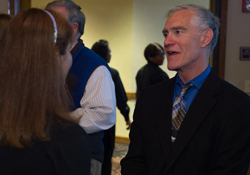 Jeffrey Thompson, MD was recognized in 2015 as the winner of Practice Greenhealth's first-ever Visionary Leader Award for achieving energy independence and becoming the first net-zero energy health system in the United States. Dr. Thompson is a pediatrician and neonatologist by background and led Gundersen Health System as its Chief Executive Officer from 2001 to 2015.Gunderson's network of hospitals, medical clinics and nursing homes throughout Wisconsin produce more energy than the health system consumes. This monumental achievement accompanies the hospital's accolades as a 4-time Top 25 Environmental Excellence Award winner, as well as winner of a Circle of Excellence for Leadership, Waste, Greening the OR, Energy, Water and Climate between 2014 and 2017. In 2013, Dr. Thompson was honored as a White House Champion of Change--an award recognizing individual Americans "who are doing extraordinary things to empower and inspire members of their communities". The Obama administration honored 11 people who specifically have taken steps to cut carbon pollution, protect public health and raise community awareness on the effects of climate change and climate-related health consequences.
Under Thompson's leadership, Gundersen's energy expenses stayed below its baseline year 2008 costs even though the campus added 26% more square footage and saw a 25% increase in electrical prices. Thompson has proven the business case for energy independence mand stated "In 2008 and 2009, we spent $2 million on conservation measures. We got a 60 percent return on our investment. There is no other investment that you can make that shows that year-over-year return." Gundersen has since saved more than $8.5 million on energy conservation alone.The campus now enjoys a diverse array of renewable energy and has established regional partnerships for energy generation, including dairy digesters, wind turbines and a landfill gas-to-energy initiative. Local projects also include geothermal energy and a biomass boiler. Thompson also led the health system in freezing all future investments in fossil fuels as part of an energy strategy that has helped set the standard for environmental stewardship in healthcare.
Thompson's visionary leadership has helped Gundersen get closer to its ultimate goal: sustained energy independence that leads to healthier patients and communities, a better environment and lower costs.The system is also a member of the Health Care Climate Council and has participated in early pilot programs like the employee home solar program--demonstrating that the system walks the talk.