2018 Visionary Leader Award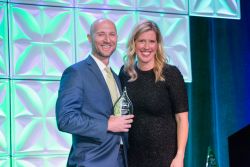 Practice Greenhealth created the Visionary Leader Award in 2015 to recognize senior-level health care executives who are impacting the world with significant contributions to health care sustainability through groundbreaking and innovative strategies, and mentorship. This award is intended to recognize senior-level health care leaders who have advocated for and woven sustainability and environmental stewardship into health care operational excellence.

Past Visionary Leader Award Winners

2017 Visionary Leader Award
Al Manshum, AIA
Senior Vice President of Operations Integration, Advocate Health Care, Downers Grove, Ill.

2016 Visionary Leader Award Winner
John Messervy, AIA
Corporate Director of Design and Construction, Partners HealthCare, Boston, Mass.

2015 Visionary Leader Award Winner
Jeffrey Thompson, MD
Executive Advisor and CEO Emeritus, Gunderson Health System, LaCrosse, Wis.

To nominate an outstanding health care executive for the 2018 award, please complete the nomination form below by April 9.