2017 Visionary Leader Award
This award recognizes extraordinary leadership and innovation in addressing the connections between human and environmental health and driving sustainable operations.
The 2017 Visionary Leader Award Winner
Albert Manshum, III
Senior Vice President, Operations Integration & Optimization at Advocate Health

Practice Greenhealth is honored to award Albert Manshum, III its coveted Visionary Leader Award. During the course of Al's swift elevation though the leadership ranks at Advocate, he's brought his commitment and passion for environmental stewardship with him, and is considered a leader for pushing sustainability to the forefront at Advocate and across the health care sector.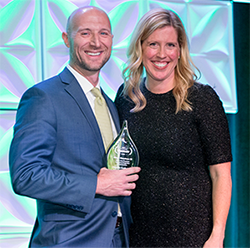 An architect by training, Al began his work with Advocate Health back in the early 2000's. As an architect on the Advocate Lutheran General Bed Tower project, Manshum was instrumental in Advocate's inaugural LEED pursuit, helping to design the first LEED Gold hospital in the Midwest. After joining Advocate to lead the system's Design & Construction team, Al worked to embed a commitment to green building into all aspects of Design & Construction. Under his leadership, Advocate has built four LEED-certified buildings with three additional building projects currently registered and pending LEED certification. In addition, during Al's tenure, Advocate has developed an internal sustainable building tool—called the Healthy Spaces Roadmap—that ensures sustainable building design and operations throughout all the smaller projects throughout Advocate where LEED registration isn't applicable, including ambulatory sites and hospital-based renovations. Under Al's leadership, Advocate finished the Healthy Spaces certification process on two ambulatory buildings in 2016 and is currently piloting their first hospital renovation-based roadmap.
Al also helped lead Advocate to become one of the founding health systems of the Healthier Hospitals Initiative and has supported Advocate's role on the Health Care Climate Council as well as its participation in moving the market toward safer chemicals in furniture and furnishings and supporting the transition to meat and poultry raised without the routine use of non-therapeutic antibiotics. A well-known story at Advocate demonstrating Al's commitment to safe and healthy environments involves a conversation he had with one of the hospital presidents a number of years ago. Just after Advocate decided to standardize rubber flooring for most flooring needs on new projects (moving away from all vinyl-based flooring), Al had a design walk-through for one of Advocate's larger building projects that included a new cancer center. At the time, the president/ administrator of the hospital had a preference for faux-wood, vinyl flooring that had been previously used in the hospital, and was hesitant to move toward the new rubber flooring. Hearing the resistance, Al quietly leaned over sometime during the walk-through and whispered to the president, "Can you do me a favor? When you go home tonight, google vinyl and cancer, and let me know what you think." The president took his advice, and subsequently, Advocate no longer specifies vinyl flooring.
Now, as the Senior Vice President of Operations Integration and Optimization, Al provides leadership to Supply Chain, Design & Construction, Food & Nutrition, Environmental Services, Facilities, Clinical Engineering, Operations Integration & Project Management, and Sustainability. From this position, Al can help provide direction and accountability in each of these critical areas as Advocate continues their mission to embed sustainability in all aspects of their organization.
Most recently, Al's been leading an effort to create a new dashboard tool for all of Support Operations throughout Advocate, to 1) track data for key result area metrics, 2) create transparency on action plans to improve results, and 3) drive innovation through sharing of best practices from site-to-site. Manshum has included sustainability throughout this effort. At the same time, Advocate has begun to build out sustainability-based metrics for a new Sustainability Dashboard.
The Dashboard will:
elevate key sustainability metrics and data ,
allow for easy access to sustainability goals and results, and
feed these goals to other Support Operations divisions which allow for personal accountability and for directors and divisions to act on these goals by including sustainability in their daily work.
Advocate is excited to begin this journey and is grateful to Al for his vision and leadership in bringing sustainability into the fabric of work at Advocate. The strength of Advocate as a leader in sustainability in the health care sector—a system that has received a System for Change award from Practice Greenhealth for nine consecutive years—certainly has its roots in the visionary leadership of Al Manshum.
---
Learn more about nominating outstanding leaders at your institution for this award in 2018.