Practice Greenhealth's Christopher Bodkin honored as GreenBiz 30 under 30
Press Releases
"We're pleased to introduce the 2018 class of 30 inspiring young leaders who are demonstrating the world-changing promise of sustainability in their everyday work. These individuals are advancing clean energy and transportation, circular design and supply chains, resilient communities and sustainable business practices overall.
The honorees were nominated by readers from around the world and selected by the GreenBiz editorial team. Grateful appreciation to our partners at the World Business Council for Sustainable Business in helping to cast a global net for prospective honorees.
This year's "30 Under 30" hail from megacities, suburbs and small towns across four continents. They include CEOs, engineers, researchers, entrepreneurs and analysts. They belong to industries as varied as agriculture, construction, transportation, energy, healthcare, finance, retail, chemicals and entertainment."
Christopher Bodkin, data coordinator for Practice Greenhealth, was recognized as an honoree.

Christopher Bodkin, on receiving this honor: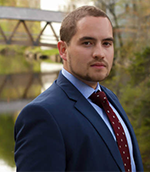 "It is an honor to be awarded GreenBiz 30 Under 30 for 2018. Economic growth and environmental health do not need to be mutually exclusive, by repurposing materials into new products, we can move towards a more equitable and clean economy. My work with Health Care Without Harm and Practice Greenhealth has given me the knowledge base and experience to better work on solutions to lessen the environmental impact of the health care sector. The mission of 'Do No Harm' could not be more important when it comes to promoting human and environmental health."