Gundersen Health System wins Energy-Independence Enterprise of the Year Award
In the News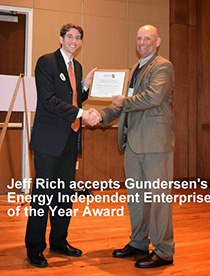 RENEW Wisconsin presented Gundersen Health System with the Energy-Independence Enterprise of the Year Award at its recent RENEW Energy Policy Summit held in Madison, WI.
The award is given for outstanding leadership and effective implementation of a corporate campaign to greatly reduce fossil fuel use by a large healthcare network spanning three states and 19 counties.
Six years in the making, Gundersen's significant investments in conservation, co-generation and local clean power in Wisconsin, Minnesota, and Iowa now offset 100% of the energy consumed by all of its facilities.
Jeff Rich, executive director of Gundersen's energy program Envision®, accepted the award on behalf of Gundersen. "We are honored to once again be acknowledged by RENEW WI with this award. We believe that our energy program is the right thing to do to help keep healthcare affordable, reduce harmful emissions, and improve the economy of the communities we serve. Hopefully our example can inspire other organizations and individuals to take steps toward a cleaner, more self-sufficient future," said Jeff.
Learn about Gundersen's journey to energy independence at gundersenenvision.org.