Tip of the Hat to Practice Greenhealth's Quality Management Professionals!
Blog
By Hermine Levey Weston, RN MBA, Member Engagement Manager, Practice Greenhealth
Practice Greenhealth celebrates National Healthcare Quality Week October 18-24, 2015 by recognizing our members who exemplify the work in improving population health in their communities.
Health Care Sustainability is a fun Quality Improvement Project with Serious Benefits
As a director of performance improvement, I was always looking for new ideas to engage our staff and get them excited about improvement efforts. I suspect that your quality team would be very interested in health care sustainability. They may not have a green gown and wig, but they have a tool chest of skills to add value to your sustainability efforts.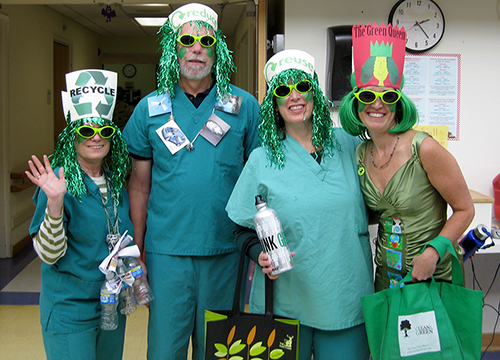 Quality improvement professionals, educated in regulatory compliance, skilled in project and data management could partner with Practice Greenhealth experts and their existing green teams to add great value to sustainability initiatives and their organizations' strategic priorities. They are skilled in using data to drive change, yet they are often not expert in environmental stewardship. This is where the Practice Greenhealth membership engagement team offers guidance in the form of one to one education and offering our array of webinars, educational courses, sharing calls and other forums for learning.
Practice Greenhealth wants to engage health care workers beyond the traditional facility and EVS managers by addressing health care quality management professionals. This strategy builds on improvement initiatives in hospitals without the reluctance to "start something new." Quality managers are system thinkers who interact fluidly within the hospital community and can coordinate sustainability work with other health care priorities for improvement. We are data driven and love to see positive impacts on our efforts.
Practice Greenhealth has long said that you can't manage what you don't measure and this same adage is used for health care quality improvement. When framed as a quality measure, most hospitals will make the connection between sustainability and quality improvement. The Joint Commission standards require hospitals to continuously improve. Examples include monitoring and improving utility systems and hazardous material tracking. The Affordable Care Act requires hospitals to meet strict quality measures. If a hospital teaches a patient about safe disposal of pharmaceuticals along with teaching them about proper administration techniques, the organization demonstrates stewardship to the EPA, DEA and Department of Public Health. These synergies would be obvious to the quality professionals and their expertise will benefit sustainability efforts.
Part one of a two-part blog series. Read part two here.