Put Your Best Food Forward: Celebrate Food Day 2016 with Our Recipe Challenge
Blog
By Thresa Pattee, Food Program Coordinator, Practice Greenhealth and Health Care Without Harm
Fall is quickly approaching; farmers markets throughout the country are in full swing providing a bounty of local and sustainably grown fruits and vegetables such as apples and kiwis, root vegetables and squash. The changing season in the air is setting the table for thoughts on preparing and sharing delicious dishes. And on the horizon is October 24, Food Day, a day when culinary and health care professionals are united by a vision of food that is healthy, appeals to eaters by being delicious and affordable, and is produced with care for the environment, farm animals, and the people who grow, harvest, and serve it.
Continuing the Food Day momentum from years past, Health Care Without Harm and Practice Greenhealth have teamed up with Menus of Change, an initiative of The Culinary Institute of America and Harvard T.H. Chan School of Public Health, to bring the health sector an exciting way to engage patients, staff, and community in the practice of sourcing and cooking healthy delicious food.
Conscientious Culinary Creativity
This year's Food Day event taps the talent and passion of healthcare culinary professionals by challenging them to create a delicious and healthy recipe that celebrates nutrition and environmental preservation. On October 24, participants will share the inspiration by serving the recipe to patients and retail customers and telling the story of why healthy, sustainable food is important to their organization.
To participate, chefs, foodservice directors and other food staff select a recipe from our database (or create their own), source ingredients that fit one or more of the following criteria: 1) produced locally and seasonally, 2) produced sustainably, 3) comprised of less than 1.5 oz per serving of meat (or are vegetarian) or 3) meat raised without the routine use of antibiotics.
Less Meat, More Flavor
Americans consume twice the global average of meat. Reducing the overall amount of meat served provides health benefits that are consistent with prevention-based medicine as well as protective of our climate and environment. In addition, hospitals can deliver an important human and environmental health message to patients, staff, and communities by choosing meat and poultry raised without the routine use of antibiotics.
Within the Food Day resources you will find culinary tips that help move meat to a supporting role while showcasing the versatility and flavor of legumes, fruits and vegetables. When featured in the early fall, our recipe for "Greens, grains and lentil pancakes with roasted tomatoes and feta" highlights seasonal fresh spinach and tomatoes. Combine with high fiber farro and lentils, a variety of fresh herbs, and rich flavored feta and you have a delicious meal that is good for people and the planet.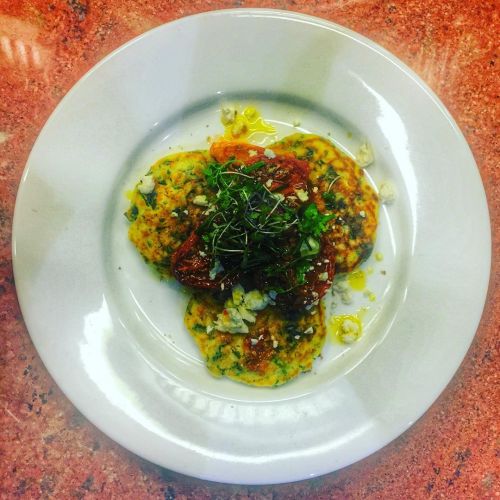 Greens, Grains, and Lentil Pancake with Roast Tomatoes and Feta (Culinary Institute of America Menus of Change)
Think Global, Source Local
Words such as "fresh" and "global flavor" can strengthen the appeal of a healthy dish and re-designing a menu to move customers away from animal-centric options can increase the appeal of meals crafted with a focus on plant based ingredients. Ethnic inspired dishes like Southwestern Stuffed Peppers encourage healthy eating, add flair and excitement to any cafeteria menus.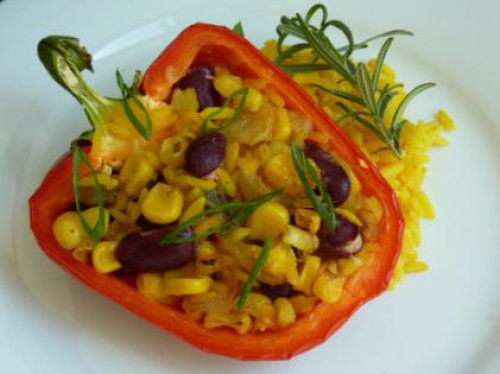 Southwestern Stuffed Peppers (Mike Bacha/Emory University Hospital)

Give customers a build-your-own experience by offering the addition of sustainably-produced sour cream, guacamole, or pico de gallo and house made salsas. To help promote the selection of healthy recipes in patient rooms and from cafeteria and catering menus, Menu of Change provides Protein Play a toolkit offering additional menu and marketing strategies.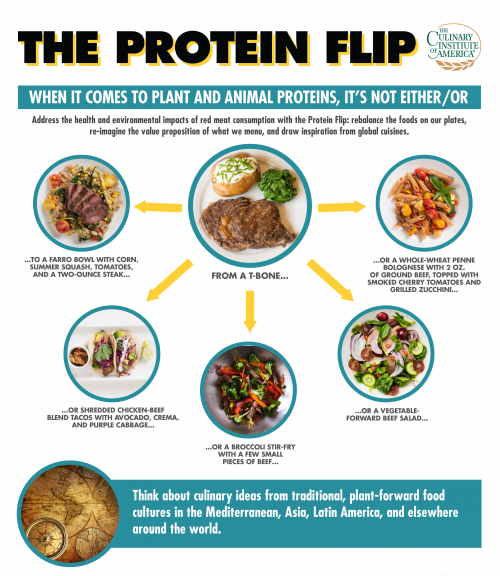 (Menus of Change/Culinary Institute of America)
Certified (and) Delicious
Sustainable and local ingredients add excitement and elevation to any recipe. Using the definition and labeling guides from Health Care Without Harm and Practice Greenhealth takes the guesswork out of sourcing products grown and raised with care, pointing out which certifications to look for when sourcing sustainable ingredients. "Good Shepherd Chili" will add a comforting favorite to your patient or retail menu. Using grass-fed lean ground beef, organic or Food Alliance Certified dried pinto beans and locally-sourced fall favorites fresh onions, jalapenos, and crushed late season tomatoes makes a dish that the health conscious consumer and red meat lovers alike will crave.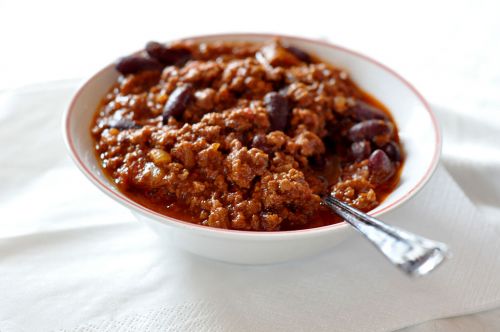 Menu of Change provides Protein Plays
Menus of ChangeThis Food Day get inspired and put your best food forward by crafting a recipe that features fresh and whole foods you love, and remember that sharing healthy foods made with responsible ingredients can improve your own health, the health of your community and put our food system on a more humane, sustainable path.