May 6-12, 2016 National Nurses Week
Blog
We salute Sustainability Nursing Champions #nursesweek
Nurses have always been drivers for a healthier hospital. From starting a recycling program that included bringing bags of plastic home to educating new mothers about safe baby care products, our nurses are exhibiting the highest of ethical standards of beneficence. Nurses all over the country are demanding healthier foods for their co-workers and patients, they are advocates for the health care team by promoting safer eco-certified cleaning products and healthier interiors and are creating environmental stewardship exemplars of education and service as part of the Magnet Process. Practice Greenhealth nurses inspire me.
The nurse members of Practice Greenhealth are coordinating and promoting "greening the operating room" improvement projects, which save materials while providing an efficient and safe perioperative environment. They are waste preventers and patient advocates for population health. Climate resiliency is not an abstract concept. Nurses are on the front lines when extreme weather events hit. They show up to work in the worst weather, bringing a toothbrush and a change of clothes, just in case they need to work a double shift. These same nurses also sit on emergency preparation committees to make sure that hospital staff have the equipment, procedures and training to respond. They sit on other multi-disciplinary committees that design buildings that would bring natural light and healthier materials for the interiors. Nurses testify and advocate in the legislative arena to protect their communities from environmental pollution of air and water.
Florence Nightingale was certainly a nurse pioneer in the field of environmental health, identifying the need for sanitation to prevent illness and disease.
Nurses like Linda Thomsen and Pat Stockwell of Dartmouth Hitchcock Medical Center diligently design systems to properly decrease waste in the operating room. They were integral to the Dartmouth team who earned the Greening the OR Leadership Award in 2015.
Practice Greenhealth's own Julie Moyle, MSN is a skilled nurse who reaches beyond the traditional nurses' roles by connecting to a broad audience to teach how plastics and operating room wastes affect the environment and her patients.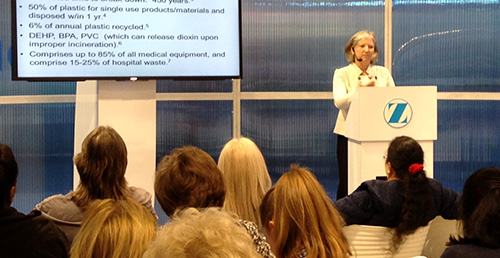 This is a photo of Julie teaching nurses at the recent 2016 AORN meeting.

| | |
| --- | --- |
| | Charlotte Brody is a nursing champion and visionary leader. I just love her frank quote from the Nurses Luminary Project: "No mother's breast milk should be contaminated with dioxin and other industrial chemicals. It's just wrong." |
| | Beth Schenk, RN, PhD developed a tool to measure nurses' awareness and behavior around environmental impacts of health care. |
| | Katie Huffling is a nurse midwife who is concerned with the effect of chemicals on reproductive health. She leads the efforts of the Alliance of Nurses for Healthy Environments. |
| | Colleen Groll, MSN LEED-AP leads the sustainability work at Seattle Children's Hospital. She promotes climate resiliency and promotes family health combining so many different skill sets. |
| | Katie Wickman, MS, RN, CIC is the Environmental Stewardship Coordinator for Advocate Health Care. Her expertise in infection control and prevention informs her work with the sustainability team, making sure that her patients are cared for in a healthy environment with the best practices with HVAC and green cleaning. |
| | My-Tho Nguyen, RN is an inpatient nurse who spearheads the sustainability program in the OR at Virginia Mason Medical Center. She engages, educates, and inspires the OR staff to participate in recycling and waste reduction projects. She is interested in the program because she knows it's the right thing to do, and is important for future generations. |
Do you have a story about a favorite nurse who works to promote environmental health and environmental justice? Tell us about by writing a comment to our blog today. Tweet this @pracgreenhealth #nursesweek on Twitter.