Climbing the Hill
Blog
By Janet Brown, Director, Content & Outreach, HHI, Director, Facility Engagement, Practice Greenhealth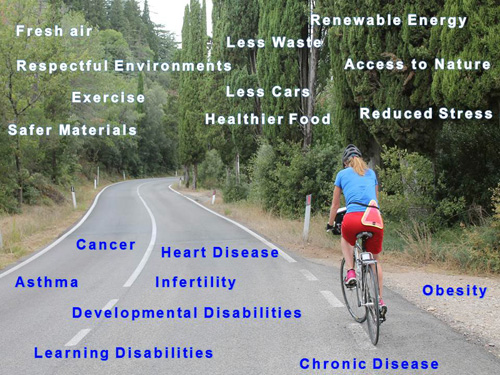 This year I turned 50 and celebrated myself by participating in a bike trip in Tuscany, Italy. After the trip, I would be traveling directly from Italy to San Diego for the Center for Health Design's Pebble Meeting, with a focus on sustainability, and found myself reflecting on this work (and my presentation) as I biked through the hills of Tuscany.
Biking the Tuscan hills is both beautiful and daunting – like working on environmental stewardship in health care. Some riders in our group would attack the hill with all they had and because of their strength and endurance, beat everyone to the top and were ready for more- kind of a force of nature. They even pedaled down the hills, fearless yet in control. These were the early adopters.
Others would attack it with the same initial sheer force, only to rapidly deplete their energy and were done before they really started their journey. One described hills as bringing her to "a dark place."
I would see the hill and feel anxiety. I asked myself – can I do it? I doubted my ability. I doubted my strength. But I would coach myself – I can do this. Here's what worked for me and could work for anyone and it applies to our important work.
I first would take a look at the hill in front of me. I took it in, saw the goal in front of me. If I looked down, focused on breathing and peddled slowly and paced myself – I made it to the top. I couldn't race. I couldn't try to keep up with others that were stronger than I. If someone passed me, that was okay. I went at the right pace for me.
We all need to get up the hill – we can't just watch while those with more endurance and strength make their way. We can all make it up the hill – male, female, large, small, even when we're tired and don't have the fancy gear. It might take longer but we can all get there. And we can help each other get up the hill. We can help people find their pace. We can share our own strategies – look down, focus on breathing, gear down.
In our work, the hill is Global Climate Change – the defining issue of the 21st century – severe weather, public health impacts, preparedness, disaster planning and recovery.
Hospitals are the second most intensive institutional energy user, consuming over 8% of the nation's energy.Healthcare organizations spend nearly $8.8 billion on energy each year. Making energy a priority, figuring out a way to increase healthier, renewable resources and finding the capital for infrastructure and conservation, that's a big hill.
The hill is healthy babies and healthy families – A 2005 "Body Burden Study found 287 industrial chemicals and pollutants in umbilical cord blood from newborns in U.S. hospitals. These babies were born with exposure to pesticides, brominated flame retardants, dioxins, phthalates, mercury and a other chemicals – chemicals which are all used in health care.
The hill is overflowing landfills and incinerators; developing countries contaminated with no longer needed medical supplies, computer and electronic equipment – like in Haiti, where a container of donated breast implants had to be buried in the ground because they had no way of using them or discarding them. Where unusable imaging equipment remains out front of the facility in which it was intended, because there was no training to use or maintain the equipment.
The hill is healthier materials – building materials, furniture, fabrics, finishes, cleaners, disinfectants and medical devices and equipment that can transition to safer materials, reprocessing, reuse or recycling.
The hill is obesity, food deserts, sugar sweetened beverages and access to healthier foods to support the local economy and model healthier behavior in places of healing. The United States spends hundreds of billions of dollars each year to treat diet-related, chronic diseases - $147 billion to treat obesity alone, another $132 billion to treat diabetes, and more than $300 billion to treat cardiovascular disease
The hill is engaged leadership and an understanding that healthier environments is good business, an ethical obligation and worth the effort. That change is critical and while it may be scary, it's long overdue.
"Going Green" or "Environmental Sustainability" or "Resilient Health Care" is a result of the implementation of a series of programs. There is no one activity that completes the picture. Environmental stewardship is continuous quality improvement – a series of hills that we need to climb together – The bikers are the team -- administration, board of directors, clinicians, purchasing, facility managers, food service directors and other departments and every business partner from architects and designers to service providers and product and equipment manufacturers. Other bikers are legislators, writers, community leaders and funders. The more that get on their bike and put their head down and pace themselves, the stronger we will all become. And the more that can be part of the gifts that are realized once we reach that summit.
At the Center for Health Design's Pebble Meeting, Robin Guenther and Gail Vittori presented case studies from their book, "Sustainable Health Care Architecture" as a follow up to their first edition. The diverse group of participants discussed designing for health, LEED for health care, engaging leadership, "making the case" and the value proposition for making a commitment to healthier environments.
Practice Greenhealth Award Winning Facility and Healthier Hospital Initiative's enrollee Palomar Pomeradopresented their "hospital of the future" and coordinated a tour, sharing their commitment to both evidence based design principles and sustainability. They shared their wavy green roof, native plantings, natural day lighting, composting, medical waste treatment and recycling initiatives. Sunil Shah, Executive Director of Capital Projects for Kaiser Permanente led a talk, "Big Ideas for All Hospitals" which took the group through a building and innovation competition held by Kaiser Permanente with members of the winning team.
On the third day, Lucia Sayre and Hillary Bisnett of the Healthy Food In Health Care Work Group shared what healthier food success can look like when it comes to signing the Healthy Food in Health Care Pledge, increasing the offering of healthier beverages, reducing meat procurement and increasing the sourcing and tracking of local and sustainable fruits and vegetables, as outlined in the HHI Healthier Food Challenge. Palomar Pomerado, Kaiser Permanente, Inova Health, Advocate Health Care and others shared their successes and challenges with procuring and tracking healthier foods. With food service contract management companies and food service distributors' participation and engagement, the conversation was underway about how businesses and hospitals can work together to increase access to healthier foods. Next steps are to identify and articulate barriers and potential solutions for a follow up meeting in early 2014.
The Healthier Hospitals Initiative is leveraging its buying power by bringing the sponsoring health systems together to clearly articulate the interest in access to healthier foods and a process for tracking progress. The power of the initiative is being used to drive change in food sourcing and tracking and making the connection between food, environmental health and human health.
THE VIEW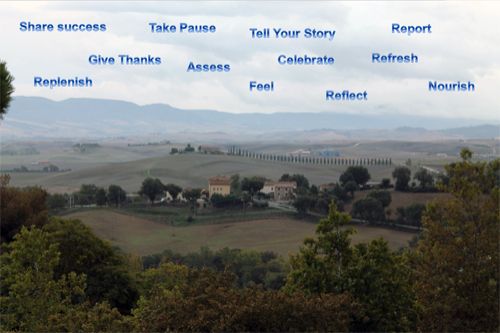 Pacing is everything. When success is realized, we take pause. Recognition can be achieved through the Practice Greenhealth Environmental Excellence Awards. The over 800 enrollees in the Healthier Hospitals Initiativecan use the free press kit to garner regional notice for their success.
We reflect, give thanks, look at the view, honor the important work that is carried out by the harried health care worker and take time to give back to staff and to the community. Only through this reflection and nourishment can we have the strength to take on the next hill. Coasting down the other side is the benefit realized from the effort. While the momentum can help us get up the next hill, it rarely carries us all the way there. We have to, again, gear down, find our pace and work our way up with strength, patience and determination.
We have all been consumers of heal care- whether for the birth of a child, an ailing parent or friend, for treatment or a surgical procedure. We are forced to relinquish control and put ourselves in the hands of esteemed clinicians. We honor their clinical expertise. But clinical excellence is only part of the patient experience. The health care experience stays with us for the rest of our lives and it's something we reflect on as we heal the loss or the recovery of our loved one. A healing touch, eye contact with a clinician, a design to support families, access to nature, daylight, healthier materials, healthier choices, a culture of caring are all part of the positive experience and a lasting impression. A negative patient outcome can still result in a positive experience if all of these components are in place – a respectful, healing environment.
Getting there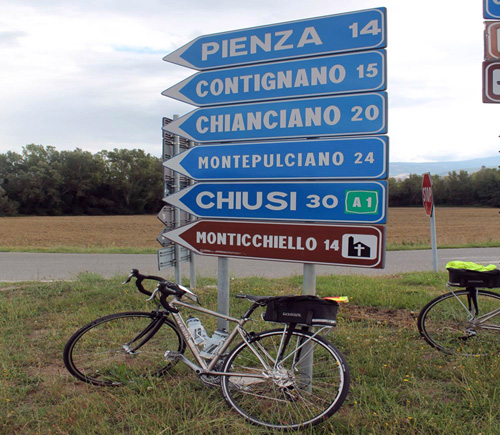 The technical assistance, tools and resources are there. We have endless case studies, guidance documents and experts to help hospitals achieve their environmental goals. The road map, the bike, the water, the energy bars, bike shorts and equipment – that's the easier part. So what's the problem?
The hill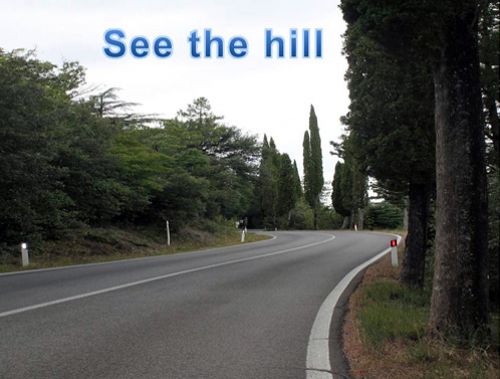 Harder than getting over the hill is seeing the hill at all -- successfully getting health care leaders to see the hill and to see that setting environmental goals is a leadership imperative and that without engaged leadership, sustainability will continue to be a blue bin by the photocopier and a harried green team trying to get styrofoam out of the cafeteria.
Do you see the hill?
Please, look at the hill. Take it in. Dare to feel its enormity. Feel its magnitude. Take in the effects of global climate change. See the harried health care worker in need of a healthier environment. See the patient putting themselves in the hospital's collective hands when they need it most. See a healthier environment as a healing touch – a clinician looking you in the eye. You can help us get health care leaders to see it and to understand why they need to get on their bike, get their staff on their bikes, get their business partners on their bikes and find the right pace, individually and collectively, and start pedaling.
Some of us are stronger than others. Some have fancier gear, flashy bike pants, expensive bikes and pedals with clips – that's okay. I wore running shoes and I didn't have bike shorts. I doubted myself, but I geared down, kept pedaling and I made it every time. And so can all of us. We are pedaling for prevention, for health, for respect – we are pedaling forward. The more that pedal, the more that can appreciate the view.
And the fruits of our labor.