Stories to Heal a Planet
Announcements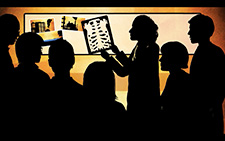 Health Care Without Harm is deepening our journey into the world of storytelling, as a powerful tool to share the heart and experiences of the people we work with around the globe. With a grant from the Skoll Foundation and Sundance Stories of Change program, we created a short animated film produced by award-winning independent documentary filmmaker Nicole Newnham, Do No Harm, that tells the story about a small group of doctors, nurses, hospitals, and other health care providers that turned into a global movement to protect our health and the environment. This is OUR story and we are excited to screen it at the CleanMed closing plenary session.
We will also be experimenting with a number of new venues to bring us into the hearts and minds behind our health care sustainability work. There is a session on storytelling where filmmaker Nicole Newnham will work with us in an interactive session to brainstorm ways we can use the new film, and other stories, to deepen the impact of our work. In another educational session, we will explore the complexities of communicating about climate change through social media. Finally, the closing plenary on Thursday, May 19 at CleanMed in Dallas, Texas will turn our typical style of presentation upside down. In the style of TED Talks, we will hear stories from three very different, and amazing, members of our community: Theresa O'Donnell, Dallas' first Chief Resilience Officer, Aparna Bole, a pediatrician at University Hospitals in Cleveland, and a HCWH board member and longtime champion, and Iqbal Mian, a member engagement manager with Practice Greenhealth. This session promises to leave us not only thinking about our work, but feeling it more deeply so that we can hold these stories in our hearts as we go back out into our hospitals, our communities, and the world as change makers.
New Environmental Excellence Awards Gala Format in 2016
Join us for the Environmental Excellence Awards Gala—this year with a new format. As the awards program continues to grow, Practice Greenhealth is evolving the Gala program format. While all winners will be recognized in the awards dinner program, only the Top 25 winners and the individual award winners (Visionary Leader, Greening the OR Leadership and PVC and DEHP-Free Awards) will be coming onstage this year to accept their awards. Other winners will be acknowledged in the audience and by our background presentation. This new format will allow the dinner program to be significantly shorter and will be followed by the new Environmental Excellence Awards AfterGlow Party with a dessert bar, DJ and dance floor, signature cocktails, photo booth and cash bar. We hope all CleanMed attendees will come to the Gala & AfterGlow Party and help us celebrate another year of amazing achievement! Be sure to add the Environmental Excellence Awards Gala & AfterGlow Party to your registration package at www.CleanMed.org.
Awards Photographs
Don't forget to get a formal awards picture taken! This year, we have created a sign-up list that will allow award winners to get their pictures taken professionally to share with their media relations teams and local press. We'll put a reminder of your photo sign-up slot on the CleanMed app so you can remember when to show up. And remember to share our updated Awards Press Kit with your media relations team and communicate your success to your local community.