Market Transformation Group builds on Healthier Hospitals momentum
Announcements
Last month in Boston, Health Care Without Harm (HCWH) and Practice Greenhealth convened a meeting as part of an exciting joint initiative called the Market Transformation Group (MTG). The goal of the MTG is to leverage the aggregate buying power of participating health systems in order to accelerate the transformation of the healthcare supply chain towards more sustainable products, technologies, and services. Priorities are chosen based on the potential for broad impact in the marketplace, important public health benefits, real opportunities to change practices, and a level of interest by members of the MTG. Eighteen health systems participating in the Market Transformation Group meeting, joining nearly a dozen of their vendors and GPOs to work toward achieving the Healthier Hospitals goals for Safer Chemicals Healthy Interiors and the Healthier Food Less Meat, Better Meat. A reception for health systems was held the evening before to celebrate their successes, and a networking lunch and tour of Partners HealthCare's Spaulding Rehabilitation Hospital was attended by all participants.
Safer Chemicals Engagement Initiative
In the morning, HCWH and Practice Greenhealth convened the meeting to discuss best practices for Group Purchasing Organizations (GPO) around communication and engagement with their members on the Healthy Interiors goal, a goal that includes eliminating the use of furnishings containing vinyl or PVC, water and stain resistant chemicals (PFCs), formaldehyde, flame retardants, and antimicrobials. Each of these groups of chemicals or materials pose hazards to health. Meeting participants explored opportunities to increase the availability of furniture that meets the Healthy Interiors goal of Healthier Hospitals, to improve communication to members about the availability of these products, to advance efforts to track and measure progress, and to encourage laggard companies to provide more information about product content. We also explored the possibility of enshrining the HH Healthy Interiors goal in other existing standards. Representatives from HealthTrust and Premier participated, and Novation sent a hospital member representative.
Meeting participants identified a long list of next steps, and we look forward continuing our work with the engaged health systems, GPOs, and vendors in our effort to advance healthy interiors in health care.
Less Meat, Better Meat Engagement Initiative
In the afternoon, HCWH, Practice Greenhealth and the participating health systems were joined by more than 25 businesses representatives including Compass Group, Sodexo, US Foods, Sysco, Premier, HealthTrust, Perdue Foods and Strauss Brands to discuss ways to overcome barriers and achieve the HH Healthier Food goal of sourcing meat and poultry raised without routine, non-therapeutic antibiotics. Attendees learned about the significant growth in consumer demand and how the fast food, retail and other institutional sectors are responding. All the attending health systems shared their internal commitments and desire for audit or verification programs for compliance; furthermore, they expressed their willingness to set long-term goals to address other production practices impacting environmental and public health. The health systems also pledged to educate their peers in order to make this transition a benefit to the healthcare sector and marketplace as a whole. In the last segment of the meeting focused on supply chain transparency, including best practices for identification and reporting improvements, attendees felt more discussions are needed at the next meeting.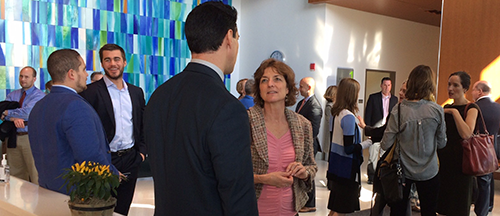 Health systems are invited to join the Market Transformation Group and should plan to attend the Annual Market Transformation Group conference call on Tuesday, January 12, at 1 pm PST/ 4 pm EST, to review the commitments for the upcoming year. Additionally, both engagement initiatives will host their next in-person meetings on Monday, May 16, 2015 (Safer Chemicals), and Tuesday, May 17, 2015 (Less Meat, Better Meat), prior to CleanMed in Dallas, TX.
Please contact Lauren Kleinman at lkleinman@practicegreenhealth.org for more information.