Member Spotlight: Moonlight Slumber Mattresses and Pads
Announcements
Arthur Martelli of Moonlight Slumber has been in the healthcare business since 1984. "Once we found out Practice Greenhealth existed, we thought 'Why aren't we members? This is a natural fit for us.'"
Moonlight Slumber formed in 2005, and manufactures mattresses, OR pads, gurney pads, and similar products. With three channels of business (healthcare, dormitory, and cribs), they're always busy. You can buy Moonlight's mattresses and pads from major medical distributors such as Medline.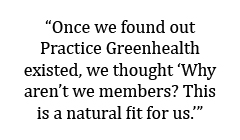 Reducing Waste
Moonlight has actively sought to reduce manufacturing waste by ordering foam to size, reducing foam waste from 11% of production to less than 1%. This doesn't transfer the waste burden to the foam manufacturer—the foam manufacturer recycles any leftover foam into carpet padding. Now, Moonlight's waste hauler can come one time per week instead of three. Recently, waste has also been reduced by working with fabric suppliers to weave fabric to the width Moonlight needs (60 inches), rather than the standard width (83 inches). This has almost eliminated fabric waste. They had to wait to do this until they grew to the size where they could demand a custom size from their suppliers.
In addition, Moonlight recycles paper and aluminum cans from their office and lunch area, and has reduced their paper waste significantly by using an electronic document management system—most of their paper waste comes from what people send to them. Any paper document received is scanned in and available, so that no paper copies must be made or stored. Most orders now come via email, and all billing is done via email, so no paper bills are mailed out.
Energy & Chemicals
Moonlight's factory in Elgin, Illinois is in an older building, so they ensured when they leased the building that new insulation was installed to reduce heat loss. Heating is on a setback system, where the thermostat automatically lowers the target temperature at night, and raises the heat in the morning before the workers come in.
Arthur has seen an evolution towards cleaner foam products since 1985—products that are healthier for the patient. Moonlight tests their products for VOCs, lead, mercury, chromium VI, antimony, PBDEs, and phthalates. Since April 2011, Moonlight has been using a soy (biobased) additive, replacing up to 15% of the petroleum-based polyols in the foam of every mattress.
"We're so busy it's hard to participate in everything Practice Greenhealth has to offer. Running a lean company, our priority is serving the patient and the hospitals."
Contact Art at Moonlight Slumber at 847-289-0101 or Info@moonlightslumber.com