Hospitality from Hospitals
Announcements
Shriners Hospital for Children Chicago, Hospital Sisters Health System and NorthShore University Health System
As a registered nurse with decades of experience working in hospitals and as a health care sustainability specialist, it's comfortable to visit the halls of hospitals and meet with green team leaders to teach as well as learn about environmental stewardship efforts.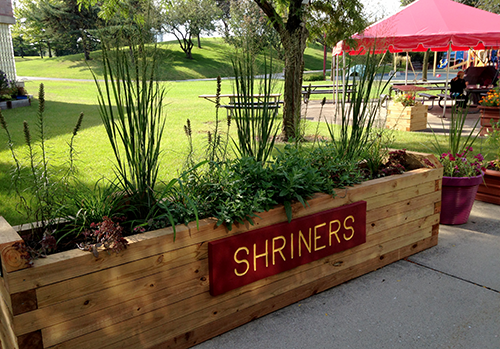 The Shriners Hospital for Children in Springfield Massachusetts was my professional home for over 25 years so walking into the Shriners Hospital for Children- Chicago was like visiting close family. Karen Polakowski, Mike Sullivan and other Shriners remarkable staff attending the Greening the OR Symposium in Chicago last year felt like cousins when we met. Entering the hospital I really felt welcomed when I met new folks in their offices like Phylliss Dickinson, Supply Chain Coordinator. She jumped out of her seat and gave me a giant hug of recognition even though we had never met each other!
This 40 bed hospital is doing big hospital-sized sustainability work. From the solar paneled therapeutic swimming pool for the kids with spinal cord injuries and the healing/learning garden to impressive energy and water conservation work, the Shriners Hospital for Children–Chicago are being wonderful stewards for their patients' future.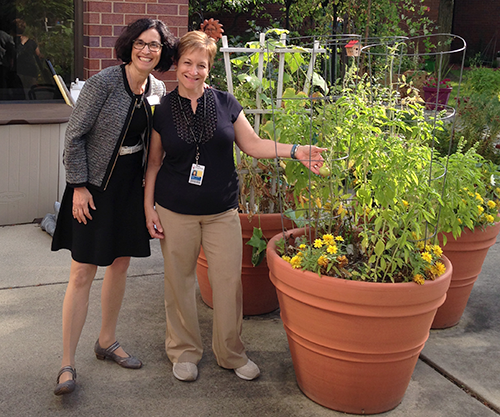 Saying farewell to the kids at Shriners and I headed to Springfield, Illinois to meet Rick Beckler of Hospital Sisters Health System.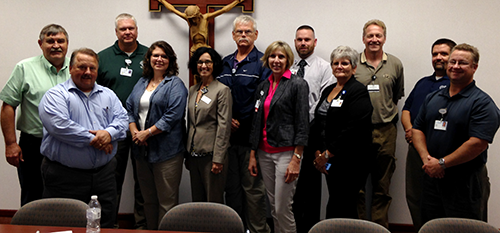 Front row (left to right): Rick Beckler, Jennifer Goldstein, Hermine Levey Weston, Donna Miller, Lois Klay, Patrick Lesicko
Back Row (left to right): Roger Elliot, Carl Kuhl, Robert Hill, Daniel Abramczak, Daniel Rocheleau, John Irwin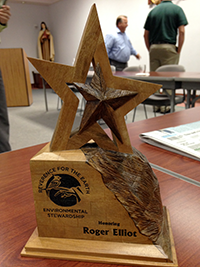 I was honored to attend their annual Reverence for the Earth Functional meeting. We were moved by 98 years young Sister Noelle who offered a reflection and prayer inspired by St. Francis and Pope Francis' Encyclical Letter: On Care for Our Common Home. The green team leaders in attendance then each offered a presentation about what they are doing to take care of our common home, the Earth. We were inspired by Roger Elliot's community farm that provides fresh vegetables tilled on the hospital grounds to the hungry in his community in Chippewa Falls Wisconsin. Dan Abramczak's audacious goal for Sacred Heart Hospital is to earn a Circle of Excellence in Food. These are two examples of what was shared and discussed. I was thrilled to share the Practice Greenhealth employee engagement strategies and to go over their system metrics. We also honored retiring Roger Elliot of St. Josephs Hospital Chippewa Falls.
Returning to the Windy City, I attended the system green team meeting hosted by Mike Fiore of NorthShore University Health System. All hospitals in this impressive system earned the Emerald Partner for Change Award.Their perioperative team was well represented and arrived with a bag of plastic trays, looking to recycle these number 6 plastics. This made for a lively discussion over lunch. My presentation provided them with benchmarking data and an opportunity to address opportunities for improvement which led to a brainstorming session to set SMART goals for 2016.
Shriners Hospital for Children-Chicago, the Hospital Sisters Health System and NorthShore University Health System were wonderful to visit and I am grateful for their hospitality.
No "On the Road "story would be complete without two flights grounded because of late summer thunderstorms in Chicago! I am gratefully back in my home office, energized and inspired by the totally terrific Practice Greenhealth members I met on my tour. Our Member Engagement Team is waiting to get you inspired. Contact your manager today!