46th Annual Earth Day-April 22, 2016
Announcements
April 22, 2016 is the 46th Anniversary of Earth Day. This is the day each year that Practice Greenhealth members demonstrate their commitment to staff, patients and their community through educational, fun and healthy events and activities. You can begin planning your Earth Day activities with a host of resources to inspire your green team.
Bookmark the Practice Greenhealth Earth Day Resources page right now and begin planning your Earth Day celebrations. Our members have been generous in sharing their past and future Earth Day plans. Practice Greenhealth has ready-to- use posters, stickers, PowerPoint presentations and lists of creative no or low cost ideas to engage your staff and community around this annual event. Here you will find links to our archived sharing calls and slide decks to inspire your green team.
Consider using Earth Day to re-energize your team.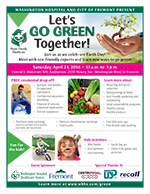 Why not consider a lunch-and-learn Eco Film Festival like Tampa General Hospital? How about getting a local car repair shop to donate a free oil change to prevent air pollution? What about getting your operating room to donate surgical socks to a homeless shelter like Virginia Mason Medical Center? Did you consider healthy food cooking demonstrations, providing tree seedlings, or starting a community garden plot on your open space like so many hospitals are doing including Hackensack University Medical Center and Littleton Adventist Hospital? These are exciting ideas and there are more creative ways to acknowledge the planet on Earth Day on the website.
Practice Greenhealth wants to share your plans and resources with our community. Tell Practice Greenhealth and we will post your ideas on our website. Use our Earth Day Press Release Template to inform your community about your plans. Most importantly, have fun on Earth Day. Give thanks, pause, reflect and have fun!