Nicholas Knock
Job Title

Communications Manager
Photo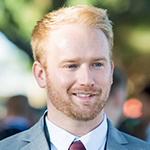 Bio
Nick is a lover of the great outdoors and the open road. In fact, there's a solid chance he's planning his next kayaking adventure as you read this. With a background ranging from social entrepreneurship to health education, he brings an eclectic set of skills and passions to his role. If you want to grab his attention, open with a Parks and Recreation quote or a "knock-knock" joke.
Join Practice Greenhealth
Practice Greenhealth is the health care sector's go-to source for information, tools, data, resources, and expert technical support on sustainability initiatives that help hospitals and health systems meet their health, financial, and community goals.