A shared food purchasing standard for hospitals, schools, & municipalities
Published: 06/22/2021 - 11:04
Feature Image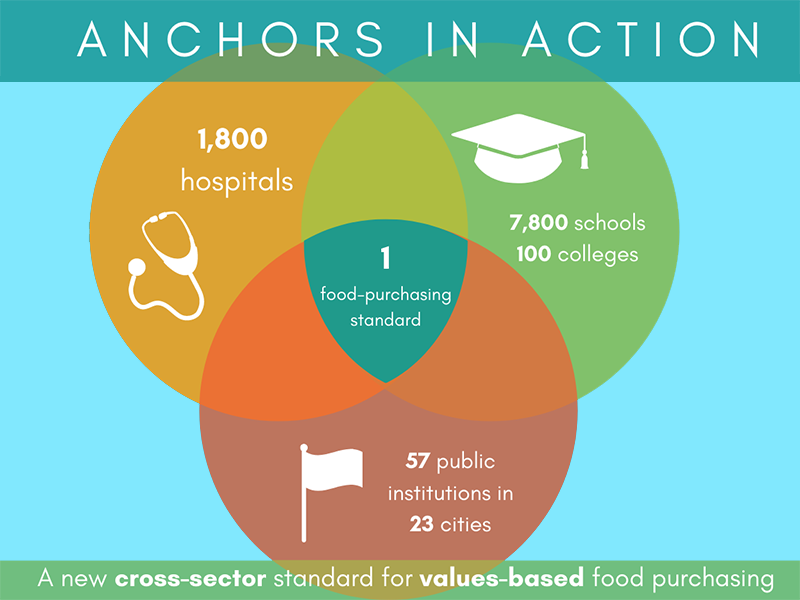 Body
We are updating our healthy food purchasing guidance in collaboration with our Anchors in Action partners to create a new cross-sector-aligned standard.
Collective power
A shared food purchasing standard for hospitals, universities, and municipalities promises to enable institutional collaboration and inspire supply chain shifts, improve public and environmental health, and strengthen the economic vitality of their communities.
Institutional food service represents a powerful leverage point for a better food system, spending over $130 billion annually on food. Representing 1,800 hospitals, over 57 public institutions in 23 major cities, 7,800 elementary and secondary schools, and 100 colleges and universities across the country, the Anchors in Action (AiA) alliance is a national cross-sector partnership among Health Care Without Harm, Practice Greenhealth, the Center for Good Food Purchasing, and Real Food Challenge. 
A new cross-sector standard for values-based purchasing 
The alliance began the development of a new aligned standard with a planned release in the fall of 2022. The standard will identify certifications, criteria, and strategies for purchasing local, sustainable, and equitable foods. It is grounded in three core principles of racial equity, climate justice, and food sovereignty and is focused on the following values:
Local economies
Environmental sustainability
Valued workforce
Animal welfare
Community health and nutrition
Learn more about the standard and values
This new standard will be integrated into our respective programs and campaigns. It will replace Health Care Without Harm and Practice Greenhealth's current healthier food purchasing standard. We will also develop updated guidance and resources to support our hospital partners in utilizing and reporting to the standard. 
Inviting you to participate
We're relying on feedback from hospital food service operators and other health care and community champions to inform both the development of the standard and its integration into the current purchasing guidance. We are excited to engage with you, other stakeholders, and community members as we update and align the standards. Your input is crucial to ensuring it is implementable and achievable within a health care food service setting.
Help build the standard
Join Practice Greenhealth
Practice Greenhealth is the health care sector's go-to source for information, tools, data, resources, and expert technical support on sustainability initiatives that help hospitals and health systems meet their health, financial, and community goals.