Meet the team: Kaeleigh Sheehan
Published: 06/16/2021 - 23:19
Feature Image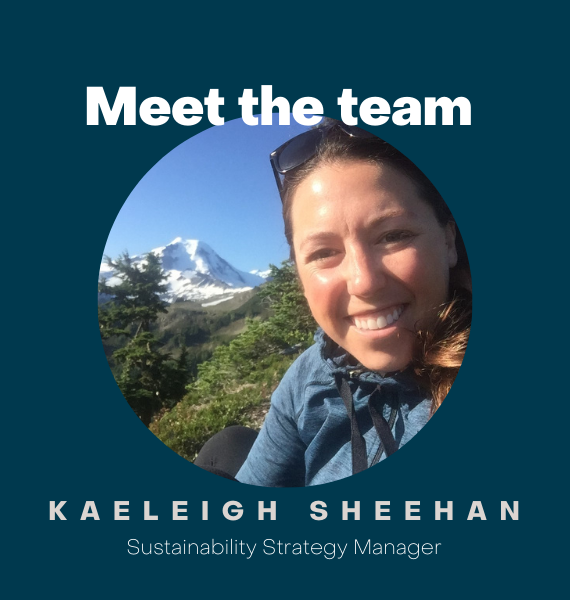 Body
Kaeleigh Sheehan celebrates her 10th anniversary with Practice Greenhealth having served as sustainability strategy manager for more than a dozen hospitals and health systems, including the Veterans Health Administration (VHA), while also directing Greening the OR since 2011. She resides in Ferndale, WA. Learn more about how relationships and partner successes motivates Kaeleigh to create more sustainable solutions for hospitals and health systems across the country.
What was your first job, and what was the most important lesson you learned there?
I worked for The Olander Park System as a lifeguard teaching swim lessons and organizing nature classes and outdoor concerts for the community. I was outside all the time and I absolutely loved it. The job gave me the opportunity to meet and work with so many different people and taught me some incredible customer service skills that I use today.
What emerging issues do you see in sustainability in health care?
Ten years ago, I would often guide hospitals on steps to implement recycling programs, but today, sustainability in health care has embraced a more holistic approach to what it really means to be environmental stewards. Instead of being asked only about recycling bluewrap or eliminating styrofoam (although still important) I'm asked what strategies have the biggest impact upfront. We look at procurement, the total life cycle impact of products, and the social cost of carbon. Specifically in the OR, I'm watching more clinicians take leadership positions and this has accelerated the adoption of best practices. For hospitals that haven't identified opportunities or need help to know where to go next, I'm looking forward to digging in and identifying quick wins through our new advisory service Greening the OR Quickstart.
What's your favorite moment/memory while working at Practice Greenhealth?
These questions are hard as there are too many wonderful memories to choose from. Given our virtual way of working, I often reflect on the moments where I get to learn more about the people. Whether it's learning about an inspiring new program at the Department of Veterans Affairs or discussing my coworker's cool hobbies – yoga, mountain biking, backpacking, and photography to name a few – these moments are what I look forward to.
Tell us about your best day in the last year. Really paint the picture.
In a bright sunny June morning last year, my partner Ty and I woke up and excitedly, nervously drove two hours south to pick up our long-awaited, brand new puppy – all eight weeks, 25 pounds of wriggling, Great Dane cuteness. I got him in my arms, looked into those big dark eyes, all paws and ears, and his little tail wagged! It was love at first sight. He slept curled up on my lap the whole ride home. Oh, my heart, the world just melted away. Kazoo still sits on my lap (at 150 pounds), but he doesn't fit quite as comfortably now.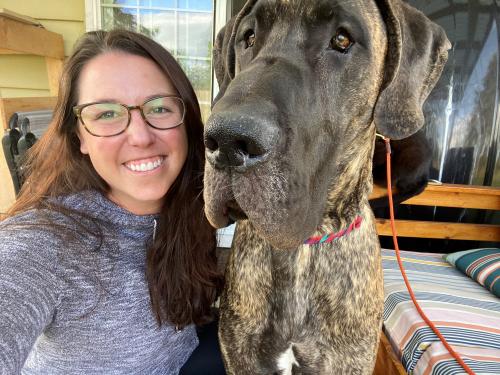 Join Practice Greenhealth
Practice Greenhealth is the health care sector's go-to source for information, tools, data, resources, and expert technical support on sustainability initiatives that help hospitals and health systems meet their health, financial, and community goals.