Meet the team: Hermine Levey Weston
Published: 01/17/2019 - 11:17
Feature Image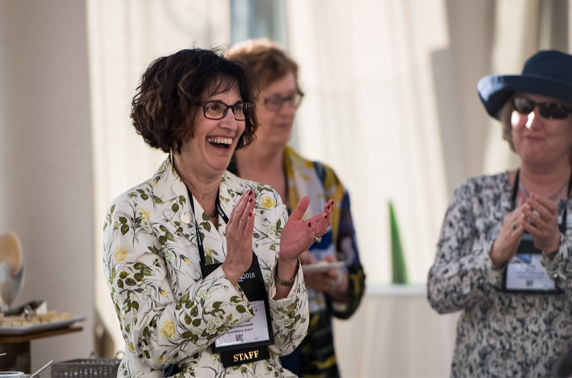 Body
Hermine Levey Weston joined the Practice Greenhealth staff as a member engagement manager in 2012. Learn about what brought her here, her best day of the last year, and her A-team.
When did you know you wanted to work for an environmental and/or health care nonprofit?
My father, an oral surgeon, hired me during high school breaks to scrub surgical instruments and attend his patients as they recovered from anesthesia. His nurse was an early role model who taught me how to care for the patients. During the same time period, I was playing my guitar in the metro parks in Ohio with friends and was aghast when the Cuyahoga River was burning. I read Paul Erhlich's "Zero Population Growth" and Frances Moore Lappe's "Diet for a Small Planet." I was moved to integrate my personal choices with environmentalism so I studied environmental science in college. Later I switched to a nursing program realizing that this profession could support my values while offering job security and flexibility. After 26 years with the Shriners Hospitals for Children, I made the decision to merge my abiding interest in sustainability with my health care experience and enrolled in an MBA program at Antioch University New England.
I interviewed Practice Greenhealth leaders in 2012 for my thesis and practicum and then applied for an open position, and here I am in my dream "eco"/echo career.
Tell us about your best day in the last year.
My daughter and son-in-law were married in Vermont over Labor Day weekend. They met in medical school seven years ago and their residencies kept them apart for much of that time. They chose Vermont because they had a 2014 car accident there and were rescued by kind strangers who kept them safe and warm. They wanted to support the Vermont economy in repayment. The guests were welcomed with CircularBlu upcycled bags filled with local goodies. My daughter wore a bright gold embroidered lehenga for the groom and bride making ceremony the night before the wedding. For the wedding day, she wore a white wedding gown and the groom donned a beige and gold sherwani with a red and golden turban. Our joyous guests included my 97-year-old mother. We danced to a live Latin jazz band who performed a fabulous Jewish wedding dance-set while we ate locally sourced vegetarian Indian food at the reception.
What's your favorite thing about CleanMed?
CleanMed offers so much in learning opportunities and networking, but hands down, my favorite part is connecting face to face with our members. I'm counting the days til we gather in Nashville in May.
Who is on your A-team at Practice Greenhealth?
The member engagement staff makes up my A-team. After multiple decades of professional experience, I know the difference between what is merely good enough and what is great. We're a great team thanks to a collaborative spirit, passionate attention to details, readiness to help –  even at a moment's notice, and a sense of shared purpose.
What cause (outside of work) do you feel most passionate about?
I serve on the board of Jewish Family Services of Western Massachusetts, a social service organization that settles and supports refugees, offers guardianship for elders, and provides mental health counseling. This agency is boots on the ground for the Hebrew Immigrant Aide Society that tragically hit the recent news as the source of animus sighted by the Pittsburgh synagogue murderer. I serve because, as a descendent of refugees with a supportive family, it is my privilege to support others in their quest for safety and a better life for their family.
Which holiday has special resonance for you?
Passover is the Jewish holiday that commemorates the liberation of Jews from slavery. It symbolizes the sacrifice of families who flee oppression and the modern resonance is unfortunately ever present. When my children were young, we recognized Darfur as the modern equivalent, and later it was Syria. We celebrate with ceremonial foods and retelling of the Exodus in an order called a Seder. The home is traditionally cleaned of all leavened foods. We invite guests who've not experienced a Seder, and they bring a richness to our celebration of liberation. My adult children continue to return home for every Passover which makes this exceptionally special to me.
Join Practice Greenhealth
Practice Greenhealth is the health care sector's go-to source for information, tools, data, resources, and expert technical support on sustainability initiatives that help hospitals and health systems meet their health, financial, and community goals.