Tory Dietel Hopps (Board Secretary)
Job Title

Managing Partner, Dietel Partners
Photo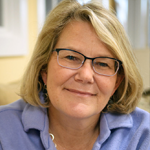 Bio
Tory Dietel Hopps is managing partner at Dietel Partners, where she manages portfolios for clients with both domestic and international interests. She works closely with the Dietel Partners team to define strategy, identify grantee and funding partners, and provide assistance to grantees with their strategies, resource development, and capacity building needs. Dietel Hopps works closely with funding partners to help with field building in the areas of interest to her clients. She believes strongly in working toward better dynamics between the funding and grantseeking communities and takes a humanist approach to her work. Prior to joining Dietel Partners, she had a 25-year career in nonprofit resource development, management, and governance with a particular focus in education and health and human services. Dietel Hopps was trained by BoardSource as a nonprofit governance consultant and was a principle of Turning Point Consulting, which focused on strategic planning and organizational capacity building in the nonprofit sector.
Join Practice Greenhealth
Practice Greenhealth is the health care sector's go-to source for information, tools, data, resources, and expert technical support on sustainability initiatives that help hospitals and health systems meet their health, financial, and community goals.