Sister Susan Vickers, RSM
Job Title

Vice President Community Health, Dignity Health
Photo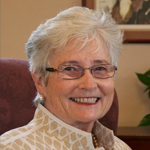 Bio
Sister Susan Vickers is the vice president of community health for Dignity Health. She is responsible for directing and overseeing system-wide community benefit initiatives, corporate social responsibility, and ecology programs. In conjunction with her community health work, Vickers directs Dignity Health's shareholder initiatives. She collaborates with other members of the Interfaith Center on Corporate Responsibility to raise social responsibility issues with the management of companies in Dignity Health's investment portfolio. She took a leadership role in developing Dignity Health's system-wide commitment to improved environmental performance and in the decision-making process which led Dignity Health to endorse the Ceres Principles for environmental protection and conservation. Vickers serves as a board member of Partners for the Common Good Loan Fund, Interfaith Center on Corporate Responsibility, and St. Mary Medical Center Foundation. Prior to joining Dignity Health, she served on the leadership team of the Sisters of Mercy-Regional Community of Burlingame, Calif. She has worked as pastoral minister and administrative assistant in assisted rental housing for elderly and handicapped persons and spent 20 years in teaching and administering elementary schools.
Join Practice Greenhealth
Practice Greenhealth is the health care sector's go-to source for information, tools, data, resources, and expert technical support on sustainability initiatives that help hospitals and health systems meet their health, financial, and community goals.