Mary Ellen Leciejewski
Job Title

Vice President for Corporate Responsibility, Dignity Health
Photo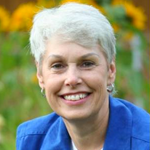 Bio
Sister Mary Ellen Leciejewski serves as the vice president for corporate responsibility for Dignity Health, one of the nation's largest health care systems. Headquartered in San Francisco, Dignity Health provides patient-centered care at more than 380 care centers, including 39 acute care hospitals in California, Arizona, and Nevada. Leciejewski is responsible for directing Dignity Health's sustainability initiatives and the development and implementation of system-wide policies and practices that promote care for Earth and use of sustainable resources. In her role, she facilitates communication networks among her colleagues and works closely with various hospital systems and environmental organizations throughout the country to raise awareness of health care's impact on the environment and to promote programs and processes that proactively address issues of sustainability.
Join Practice Greenhealth
Practice Greenhealth is the health care sector's go-to source for information, tools, data, resources, and expert technical support on sustainability initiatives that help hospitals and health systems meet their health, financial, and community goals.