Laura Anderko, PhD, RN
Job Title

Director of the Mid-Atlantic Center for Children's Health and the Environment, Georgetown University
Photo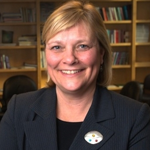 Bio
Laura Anderko, Ph.D, RN, holds the Robert and Kathleen Scanlon Endowed Chair in Values-based Health Care at Georgetown University School of Nursing & Health Studies and serves as director of the Mid-Atlantic Center for Children's Health and the Environment. In 2013, Dr. Anderko was honored by the White House as a Champion of Change for her work in climate change and public health. She is a scholar and educator in the fields of epidemiology, public health, health disparities, and environmental health. Dr. Anderko has published and presented extensively in the area of public health impacts from environmental exposures, including climate change, sustainability, and resiliency issues with a focus on environmental justice communities. She serves as co-chair of the National Environmental Health Partnership Council (APHA/CDC), member of Project TENDR (Targeting Environment and Neuro Developmental Risks), and co-chair of the research workgroup for the Alliance of Nurses for Healthy Environments. She is a former member of the Environmental Protection Agency's federal advisory committees: the Children's Health Protection Advisory Committee, the National Drinking Water Advisory Committee, and the National Environmental Justice Advisory Committee's Research Workgroup.
Join Practice Greenhealth
Practice Greenhealth is the health care sector's go-to source for information, tools, data, resources, and expert technical support on sustainability initiatives that help hospitals and health systems meet their health, financial, and community goals.