Jeffrey Thompson, MD (Board Chair)
Job Title

Executive Advisor and Chief Executive Officer Emeritus at Gundersen Health System
Photo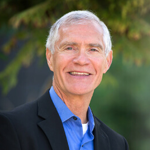 Bio
Jeffrey Thompson, MD, is a pediatric intensivist and neonatologist, executive advisor, and chief executive officer emeritus at Gundersen Health System. Since completing his professional training in 1984, Thompson has worked full-time solely at Gundersen. He served on Gundersen's boards beginning in 1992 and played a key role in the organization's negotiations and governance design. Thompson served as executive vice president from 1995 to 2001 and as chief executive officer from 2001 to 2015. A founding member and past board chair of the Wisconsin Collaborative for Healthcare Quality and a 2013 White House Champion of Change, Thompson has led Gundersen's nationally-recognized initiatives for patient care, quality improvement, and sustainability.
Join Practice Greenhealth
Practice Greenhealth is the health care sector's go-to source for information, tools, data, resources, and expert technical support on sustainability initiatives that help hospitals and health systems meet their health, financial, and community goals.