Dr. Jeffrey Thompson (Board Chair)
Job Title

Executive Advisor and Chief Executive Officer Emeritus at Gundersen Health System
Photo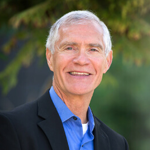 Bio
Dr. Jeffery Thompson is a pediatric intensivist and neonatologist, executive advisor, and CEO emeritus at Gundersen Health System. Thompson is on the board of Practice Greenhealth. Since completing his professional training in 1984, he has worked full-time at Gundersen. He served on Gundersen's boards beginning in 1992 and played a key role in the organization's negotiations and governance design. Thompson served as Gunderson's executive vice president from 1995 to 2001 and as CEO from 2001 to 2015. A founding member and past board chair of the Wisconsin Collaborative for Healthcare Quality and a 2013 White House Champion of Change, Thompson has led Gundersen's nationally-recognized initiatives for patient care, quality improvement, and sustainability.
Join Practice Greenhealth
Practice Greenhealth is the health care sector's go-to source for information, tools, data, resources, and expert technical support on sustainability initiatives that help hospitals and health systems meet their health, financial, and community goals.