Aparna Bole, MD, FAAP (Board Co-Chair)
Job Title

Medical Director of Community Integration at UH Rainbow Babies & Children's Hospital and an Associate Professor of Pediatrics at Case Western Reserve University School of Medicine
Photo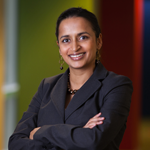 Bio
Aparna Bole, MD, FAAP, is Medical Director of Community Integration at UH Rainbow Babies & Children's Hospital and an Associate Professor of Pediatrics at Case Western Reserve University School of Medicine in Cleveland, Ohio. She leads efforts to build close partnerships with community organizations and stakeholders to enhance the well-being of patients and families at UH Rainbow Babies & Children's and MacDonald Women's Hospitals, and supports innovation in women's and pediatric primary care delivery. She is particularly interested in the intersection between environmental sustainability and pediatric public health. She serves as chair of the American Academy of Pediatrics Council on Environmental Health, on the board of Healthcare Without Harm (as co-chair), and is a founding advisory council member of the Ohio Clinicians for Climate Action. 
Join Practice Greenhealth
Practice Greenhealth is the health care sector's go-to source for information, tools, data, resources, and expert technical support on sustainability initiatives that help hospitals and health systems meet their health, financial, and community goals.